Ashanti On Self-Care And How Her Confidence Continues To Increase With Age: 'It's Just About Staying True To Myself '
The singer is known for dropping jaws in eye-catching bikinis!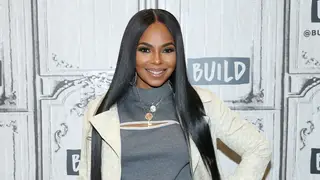 For Ashanti, self-care is an essential part of her everyday life! Whether it's enjoying a much-needed massage or working out, she always finds time in her busy schedule to ensure her mind and body are flourishing. With a quick scroll on her Instagram, you can see that her dedication to eating healthy, exercising, and prioritizing her self-care routine is paying off. Our good sis stays glowing!
The busy singer recently chatted with Byrdie about her wellness routine, and we couldn't help but pull out our notebooks and jot down how to live our very best lives.
Despite having a hectic schedule, the busy singer says she always makes time to indulge in "me" time, even if it's just enjoying some quiet time.
"Self-care is very important," she explained. "I work on this daily because my schedule has been packed with shows, interviews, and appearances, and I have not taken the time out for myself. This is the first week in months that I am off for seven days straight. So my self-care routine will consist of massages, quiet time, writing some songs, and doing some shopping. I'm getting excited just thinking about it."
For the 42-year-old star, creating the perfect self-care routine starts with setting boundaries.
"Creating a balance when working hard and going after all these amazing opportunities is essential. You have to be cognizant of your mental health, get enough sleep, drink enough water, and eat the right foods," she advised.
When asked if she could give some advice to her younger self, Ashanti dropped gems on the importance of having a healthy diet.
"I would [tell myself to focus on] being healthy from within," she shared. "I feel I've done a decent job of caring for myself and watching what I eat. I've become a pescatarian within the last seven or eight years. I stopped eating red meat and pork when I was in 10th grade. I'm trying to go vegetarian now. Maybe I would've told my younger self to start that a little earlier."
As for where she draws her confidence, Ashanti says it partially comes with age.
"As you evolve and age, you become more comfortable in your skin," she shared. "I might put on a bikini a little more often now than when I first came out."
She continued, "A lot of the confidence comes from within, and obviously, you stay stylish because you've got to give the girls a little something. For me, it's just about staying true to myself and accentuating the good things I love about myself. I'm proud to be happy with who I am."
We love it. Keep shining, Queen!