See All the Vacay-Envy From the Harris's 'Family Hustle' Getaway
From T.I. relaxing with his boys to Tiny's QT with her girls on the beach!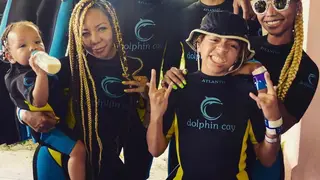 Looks like T.I. and Tiny may be back on track! After months of public divorce drama and rumors of random acts of infidelity, the famous couple decided to take a family vacation! Is this a sign that they want to give their relationship another shot or are they merely sharing with the world that they can put their personal differences aside when it comes to family time? It matters not; we are excited to see them as a family unit again!
On Tuesday, the Harris family begun to share multiple posts on Instagram from their family vacation in the Bahamas with the hashtags #familyFirst and #HarrisFamilyVacation. We are not sure where TIP and Tiny's marriage stands at the moment, but based on this string of posts, it appears their family is in a good place!
Family scuba diving adventures

The Harris boys kickback session

Tiny's QT with the girls at the beach

DEYJAH AND ZONNIQUE, EPIC VACATION SELFIES

strolls around the resort as royalty