Willow Smith Inspired Jada Pinkett Smith's Freshly Shaved Head + More Displays Of Their Unbreakable Bond!
See how the mother-daughter are twinning with fresh new looks.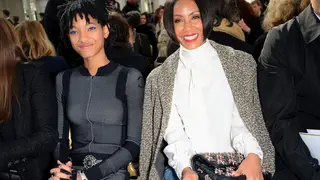 On Monday (July 12), the matriarch proudly debuted her freshly shaved head, along with details about the inspiration behind her big chop—her daughter! 
"Willow made me do it because it was time to let go," she captioned an Instagram photo twinning with her 20-year-old daughter. "BUT…my 50's are bout to be Divinely lit with this shed."
The adorable twinning moment comes years after the 49-year-old star opened up about her "issues with hair loss" during an episode of Red Table Talk in 2018. She later revealed she changed her perspective about hair loss to "settle" herself. 
Willow, who is also the daughter of Will Smith, shared the same photo, along with a caption that read: "a gift is pure when it is given from the heart to the right person at the right time and at the right place, and when we expect nothing in return."
Aww! In honor of the duo's loving relationship, we've decided to highlight some of their sweetest moments posted on social media. Below, see all the times Jada Pinkett Smith and her daughter Willow Smith created mother-daughter goals! 
Enjoying Mommy-Daughter Meditation

Sharing Words Of Love And Upliftment

Celebrating Generations Of Beauty And Happiness

Twinning On The Fitness Trail

Getting Matching Lotus Tattoos