Former Georgetown Basketball Coach John Thompson Dies at 78
He was the first Black coach to win an NCAA title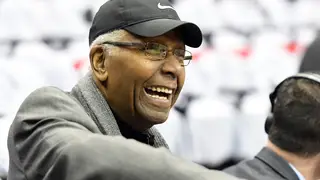 John Thompson, the former coach of Georgetown's Men's Basketball team died Monday at age 78, according to WJLA-TV.
Thompson was the first Black coach to win an NCAA title and had led the program through some of its most storied days. In 1984, he coached the Hoyas through their championship run over the Houston Cougars with the team helmed by Patrick Ewing, who is now Georgetown's head coach.
Born in Washington D.C. Thompson was a standout center at Archbishop Carroll High School and played three city championships from 1958-60. After graduation he moved on to Providence College where he was part of its first NCAA Tournament team in 1964. Later that year he became eligible for the NBA draft and went to play two seasons for the Boston Celtics while they went on to two NBA Championships.
RELATED: This Day in Black History: April 2, 1984
In 1966 he retired from playing and focused on coaching, beginning at St. Anthony High School that year and remaining until 1972. But he left for an opportunity to coach at Georgetown, a tenure that landed him in the Naismith Memorial Basketball Hall of Fame years later.
The Hoyas had been 3-23 the year before he took over, but he made drastic improvements to the team and within three seasons, made the NCAA tournament, at which they have been regulars for most of the past 45 years.

"I was given an opportunity and had intelligence enough to win, but I can list about five guys, had they been given that same opportunity, who I think would have won a national championship," Thompson once said in an interview with WUSA-TV. "So I was sort of proud of the fact that I had represented more than the fact that I had done it myself."
But he also took a stand for African-American players in 1989 when he walked off the court in protest of Proposition 48. The rule would have prohibited scholarship athletes from playing during their freshman years if they did not make a certain academic standard. Thompson felt it disproportionately affected Black players.
Over the 28 years Thompson was coach, the Hoyas went 596-239. In addition to the 1984 championship, he won Coach of the Year from the Sporting News and United States Basketball Writers Association in 1984; NABC Coach of the Year in 1985; UPI Coach of the Year in 1987; and was Big East Conference Coach of the Year in 1980, 1987, and 1992.
RELATED: Op-Ed: Too Big To Fail? Why The NCAA Is At Another Crossroads Over Athletes' Rights
In addition to Ewing, Thompson has also coached a number of NBA superstars before they entered the league including Alonzo Mourning, Dikembe Mutombo, and Allen Iverson. A total of 26 players reportedly went to the NBA after being coached by him.
Iverson, who went on to play a majority of his career for the Philadelphia 76ers, posted to Twitter on his former coach's passing, with an emotional note of gratitude.

In 1988, Thompson was selected to be head coach of the U.S. Men's Basketball Team for the Summer Olympics. However, the team did not reach the gold medal game, having been defeated by the Soviet Union 82-76.
He left Georgetown in 1999 and was entered into the Naismith Memorial Basketball Hall of Fame later that year. After leaving coaching, he was a college and pro basketball commentator on TNT and hosted "The John Thompson Show" on ESPN 980 in Washington D.C.
He had recently retired from the Nike Board of Directors in May of 2020. No announcement has been made yet on the cause of death.
RELATED: NCAA Cancels March Madness Basketball