'Black-Ish' Creator Kenya Barris Slammed For Dismissive Comments About Colorism
His new Netflix special looks very problematic to some.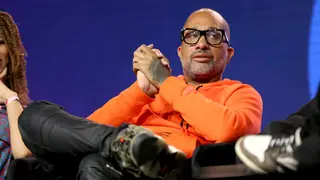 Since the cast of Kenya Barris' new Netflix series, Black Excellence, was revealed online, social media has been in an uproar, accusing the show's creator and producer of colorism.
A tweet by @StrongBlackLead revealed that the comedy series has "found its family" along with a picture of the main cast. The show stars Rashida Jones and a slew of Black actors and actresses, most of whom could be categorized as "light-skinned."
Now, folks are not only accusing Barris of colorism but also pointing out he has a history of questionable casting in his previous shows.
At first, Kenya Barris fired off direct reply tweets to his critics on Twitter, writing, "Guys, this is supposed to be real. What do u think Rashida & I's kids would look like?" he wrote. "Have you seen MY actual very real and definitely BLACK family? Don't we have enough hate from others?"
And then he went for the jugular, responding to the criticism and calling out the people making noise for hypocrisy: