Johnny Manziel Party Led to Josh Gordon's Punishment
Both players missed team's walk-through next morning.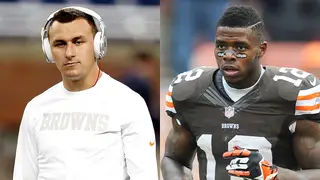 The last thing that Josh Gordon needs is a bad influence.
Johnny Manziel might just be that for the troubled Cleveland Browns wide receiver.
According to ESPN, Manziel threw a party Friday night, which was attended by several Browns players, including Gordon. What transpired was both Gordon and Manziel missing the team's walk-through on Saturday morning and the Browns having trouble locating either. The team fined Manziel and suspended Gordon for violating team rules. In addition, the Browns deactivated rookie cornerback Justin Gilbert for Sunday's game against the Baltimore Ravens.
Although Browns owner Jimmy Haslam didn't name any players by name, he was clearly irked by the actions of Manziel, Gilbert and Gordon.
"I think a player who can't show up for meetings, can't make practice, can't make weight-lifting, disrespects himself," Haslam said."But I think more importantly, and I think this is what these young guys miss, they disrespect the team, the coaches, the staff, the fans. There's a lot of people in our organization whose livelihood depends on how well we do. We're not gonna tolerate people who are irresponsible no matter what round they're drafted in."
The news especially reflects bad on Gordon and Manziel. The rookie quarterback had just started the Browns' past two games, before suffering a hamstring injury, while Gordon was coming off a year-long suspension, which was later reduced to 10 games, and was on his road back to an incident-free recovery.
Click here to win a trip to the Super Bowl Gospel Celebration in Phoenix, AZ, plus 4 tickets to the Big Game. 
BET Sports News - Get the latest news and information about African-Americans in sports including weekly recaps, celebrity news and photos of your favorite Black athletes. Click here to subscribe to our newsletter. 
(Photos from left: Leon Halip/Getty Images, David Dermer/Diamond Images/Getty Images)