Paramount Drops New Trailer for Bob Marley Biopic 'One Love'
The film stars Kingsley Ben-Adir and Lashana Lynch as Bob and Rita Marley.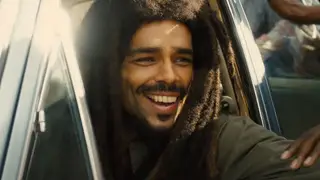 Paramount has released its first look at the upcoming Bob Marley: One Love biopic starring Kingsley Ben-Adir as the late legendary reggae artist and activist Bob Marley. The movie also stars The Woman King's Lashana Lynch as Marley's wife and singer, Rita Marley.
The film was directed by Reinaldo Marcus Green, who was behind projects such as  King Richard and Monsters and Men and produced by Marley's son, Ziggy Marley, daughter Cedella, and Rita. It will follow the journey of the "Three Little Birds" singer leading up to 1978's One Love Peace Concert
amidst a violent political crisis in Jamaica. Zach Baylin, Frank E. Flowers, and Terence Winter wrote the screenplay.
Green and Ziggu placed great importance on keeping the story of Marley as authentic as possible, according to Entertainment Weekly. "It was exciting and emotional. I was very focused on making sure that we represented him right, and being given that responsibility to help Reinaldo was a very serious thing for me," Ziggy told the outlet.
He added, "We explored different elements of Bob that people don't know, different emotions that he went through. I actually learned some stuff, too. As someone who was there in this time period, it brings back a lot of memories and things that were hidden inside of me before. It was a very emotional journey."
Bob Marley: One Love is set to hit theaters on Jan. 12, 2024, but in the meantime, check out the trailer below.