EXCLUSIVE: Tessa Thompson On Raising Bianca's Voice In 'Creed 2'
Watch the latest trailer for the heavy-hitting sequel.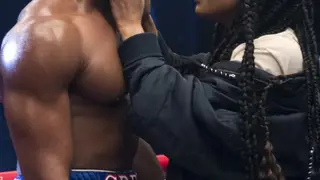 In the three years since Creed was released in theaters its stars Tessa Thompson and Michael B. Jordan have been launched into rarefied air. "We've grown up a little bit," Thompson says during a break in filming for the sequel. It's day 38 of shooting but her energy level is still high. "Even Mike and I we were looking at some playback the other day and we were like, 'We got older.' In a good way we've grown. I think this film oddly parallels where we are too in terms of our artistic journey."
During their break Jordan was in a little movie called Black Panther, while Thompson was on the far side of that same galaxy in Thor: Ragnarok. When she wasn't playing a drunken mercenary, Thompson was a scientist in the cataclysmic Annihilation and a sign-twirling dramatic artist in the surrealist anti-capitalism manifesto, Sorry To Bother You. Now it's time to return to earth a bit with a character a tad more grounded in reality.
Thompson's Bianca was as much a challenge for Adonis as his opponents in the ring. A singer with ambitions of her own, she had a sense of urgency about her work that rivaled his, due in some part to gradual hearing loss.  But where there might have been a divergence to their career paths before, in a scene being filmed today on a sound stage outside of Philadelphia, they are together. Bianca is walking Adonis into the ring before a fight and singing one of her own songs. She's not an opening act, but a main attraction.
"In the first film that was the only time I ever used my tattoos," she says. "I have a tattoo that says 'Yes' and in this film, we turned it into 'Yesterday.' So, we really want you to see that time has passed and these characters have grown and changed."
In the first Creed Bianca performs three songs ("Grip," "Breathe" and "Shed You"), where Thompson gets to flaunt her musical pedigree. Tessa sings in the group Caught A Ghost who dropped their debut album Human Nature in 2014. Her father is Marc Anthony Thompson aka Chocolate Genius, a singer and songwriter who also composed scores for films. This go around Tessa has enlisted heavy hitters like James Fauntelroy to elevate Bianca's sound.
"There are three songs that will for sure be in [the film] and all of them are performed. Last time they would be like source music. She's grown in terms of her writing. She is playing for bigger audiences and has interest from record labels. She's sort of at this juncture where she's been an independent artist, an army of one just making music in her apartment and has to decide if she wants to work with the record label, work with other people and sort of give up her own agency inside of her work."
Bianca's decisions are further complicated by her degenerative hearing loss and its clear impact on her work. Balancing career, family and health is as American a story as you can get and Thompson has taken particular care with the portrayal.
"My brother is 19 and he's had hearing loss his whole life," Thompson reveals. "And working on this film this time around, the conversations that I had with him about it and really understanding it, I realized that there are so many questions I never asked him about his own experience even though I am so close to him. I had the occasion to meet this really incredible woman who is nominated for a Tony, Lauren Ridloff, who's in "Children of a Lesser God" and was born deaf. I was talking to her and she just wanted to make sure that I knew she's really happy and lives a really rich life. The truth is there are tons of people who don't hear anything or do experience hearing loss and they do live rich awesome lives. I think it's important particularly in media to reflect that, it doesn't have to be a pained experience."
In the newly released trailer for Creed II we see the conflict that Bianca endures when Adonis decides to fight Drago. Even Stallone acknowledges that "She's not Adrian" and that what she does in response is not a foregone conclusion.
"What's been so cool is that Steven Caple Jr. (director) and Jewel, who is the other writer, we've just had a lot of conversations around how we continue to give this character Bianca her own agency and how we make sure that her voice is really present. Even if she doesn't occupy tons of page space but the page space that she does occupy feels really vital. And so some of that just has to do with her being able to articulate where she's coming from. I think the only time where I would feel mad is her is not taking agency in a way that I hope that she would."
Watch the latest trailer for CREED II in theaters this Thanksgiving!