Anthony Mackie Lands Leading Role In 'Captain America 4'
Screenwriter Malcolm Spellman was tapped to co-write the script.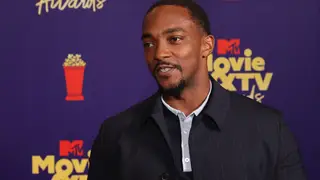 It's official. Anthony Mackie has closed a deal to suit up with shield in hand in the upcoming Captain America 4 movie, sources told Deadline.
The actor first appeared in the series in 2014 with the role of Sam Wilson (the Falcon) in Captain America: The Winter Soldier. This opportunity for the lead role came after the original Captain America, Chris Evans passed on the lead role in the franchise.
This makes Mackie only the second leading Black actor in the Marvel Cinematic Universe, according to Yahoo! Chadwick Boseman playing the titular role in 2018's Black Panther was the first. 
Malcolm Spellman, the head writer for The Falcon and the Winter Soldier, was tapped to co-write the script for Captain America 4.
Spellman notably assembled an almost all-Black writers room for the Falcon series, earning praise for helping to bring the Black experience to superhero films, according to The Hollywood Reporter.