Fix It, Jesus: Twitter Drags Eddie Long for His New Look
See for yourself and watch the video of the Bishop explaining.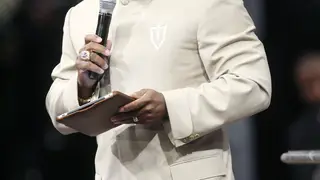 Bishop Eddie Long looks like a new man today. No, really.
He recently dropped a massive amount of weight, and in response to his worried congregation, who suspected it was health-related, Long took to Facebook to explain his lean look.
"People are asking, 'Bishop, what happened to all of you?'" he said in the video. "Well, all of me has melted away."
Here's the kicker. Bishop Long told his congregation that he wants to live past 100, so he's adopted a "slave menu," which is his own way of saying a vegan diet.
"I wasn't going to get [to age 100] by stopping by Popeye's. That was my weakness," he said. "The biscuits with honey and chicken wings, spicy... I'm on the medicine that God gave you to feed your immune system to build you up. You know what, if you really want to move through this world and have influence, you gotta be spiritual and you have to walk by His Commandments and you have to be healthy."
Take a look at the video below:
Despite his explanation, some folks had to slam him on Twitter. Take a look at some of the harsh tweets, below (these are the tame ones):
Some haters even went so far as to question his health, which was completely disrespectful. If Bishop Long is healthier, good for him!
This is not the first time his look has caused a stir, either. Back in 2015, Long turned heads again when this photo went viral.
Watch Kirk Franklin's performance of "Wanna Be Happy" from BET's Celebration of Gospel, above.