Vivek Ramaswamy Defends KKK 'Grand Wizard' Remarks About Rep. Ayanna Pressley
The first Black woman elected to Congress from Massachusetts calls the GOP presidential candidate's comments 'deeply offensive' and 'dangerous.'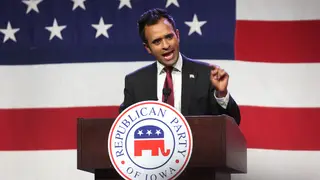 GOP presidential candidate Vivek Ramaswamy is no stranger to making controversial statements concerning Black people. He previously called Juneteenth "useless" and used a debunked myth when arguing with former CNN anchor Don Lemon about Black history.
On Sunday (Aug. 27), the biotech entrepreneur doubled down on his remarks during a campaign stop Friday (Aug. 25) in Iowa when he called Rep. Ayanna Pressley – the first Black woman elected to represent Massachusetts in Congress – part of the "modern KKK."
"I stand by what I said to provoke an open and honest discussion in this country," he told CNN's State of the Union anchor Dana Bash.
Ramaswamy added, "Because there is a gap, Dana, between what people will say in private today and what they will say in public. I think we need to close that gap. I think we need to have a real open, honest, raw conversation as Americans."
This latest controversy stems from Ramaswamy's response to an Iowa voter asking if critics would blame him for white supremacy or call him part of white supremacy, NBC News reports. In his response, Ramaswamy equated Pressley and Ibram Kendi, author of How To Be Anti-Racist, "modern grand wizards of the modern KKK."
Ramaswamy quoted Pressley's comments from 2019 when she reportedly said Democrats did not need "any more brown faces that don't want to be a brown voice" and "any more Black faces that don't want to be a Black voice."
At that time, Pressley clarified on social media: "I was speaking to the collective impact of lifting up one's lived experience, *whatever* that is, whatever your life walk. I was encouraging *everyone* to lean-in on & not run away fr lifting their unique lived experiences when in the corridors of power."
Bash pressed Ramaswamy to explain how he can equate Pressley's remarks with a domestic terrorism organization that "was responsible for more than a century's worth of horrific lynchings, rapes, murders of Black people."
The Republican candidate said Pressley's remarks had the "same spirit" as the Klan, adding that "the grand wizards of the KKK would be proud of what they would hear her say because there is nothing more racist than saying that your skin color predicts something about the contents of your viewpoints or your ideas."
Pressley fired back at Ramaswamy Sunday (Aug. 27) on MSNBC's Politics Nation, telling host Rev. Al Sharpton that Ramaswamy's "verbal assault" was "deeply offensive" and "dangerous."
Ramaswamy launched his presidential campaign in February on Fox News and wasted no time throwing raw meat to conservatives hungry to win the White House. That evening, Ramaswamy wrote in a social media post that ending affirmative action would be at the top of his agenda if elected president.
In April, Ramaswamy appeared on CNN and lectured Lemon on Black history, saying that "Black people secured their freedoms after the Civil War … only after their Second Amendment (gun rights) were secured."
Ramaswamy repeated a debunked false claim that the National Rifle Association (NRA) played a "big role" in securing those freedoms.
Earlier this month, Ramaswamy, speaking to a cheering crowd in Iowa, presented his proposal to cancel one holiday and replace it with a national voting day.
"Cancel Juneteenth or one of the other useless ones we made up," he stated.