Nick Cannon Reveals Why He Is Insecure 'When It Comes To Being Intimate'
"I hide under the covers."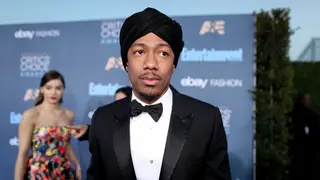 Nick Cannon is sharing why he gets insecure when it's time for intimacy.
On his Wednesday (Jan. 19) episode of his self-titled daytime talk show, Nick Cannon, he and four friends discussed their bedroom insecurities on a "Man Panel," according to PEOPLE.
"I've got to tell you, I definitely have an insecurity when it comes to being intimate," said the father of seven. "I've been skinny my whole life, so therefore I've never liked to be completely naked. It's usually like, I hide under the covers. As much as I boast about being in shape."
Jersey Shore's Mike "The Situation" Sorrentino, Dr. Ish Major, Chris Distefano, and Rip Michaels were the other panelists on the show.
Cannon added that he has to wear "some type of clothes" or "socks" while in the bedroom.
While some of the panelists feel self-conscious about their bodies, others are more concerned about pleasing their partners. Still, to Cannon, neither is really that important and the togetherness when both parties are genuinely unguarded matters most.
"But women don't think about that, I'm pretty sure, because that's when we're our most vulnerable, when we're making love, when we're tapping in to our sensuality," Cannon added. "That's when we are our most open."
The talk show host shares twins Moroccan and Monroe,10, with his ex-wife Mariah Carey. He is also the father of son Golden, 4, daughter Powerful Queen, 10 months with Brittany Bell. And in June 2021, the actor welcomed twins Zion and Zillion 4 months with Abby De La Rosa.