Illtown Sluggaz and Next Talk About Their 'Next By Nature' Album and Spike Lee Directed 'Hip-Hop Hooray' Video
The two legendary groups have already released a single and look to excite hip-hop fans with the mega collaboration.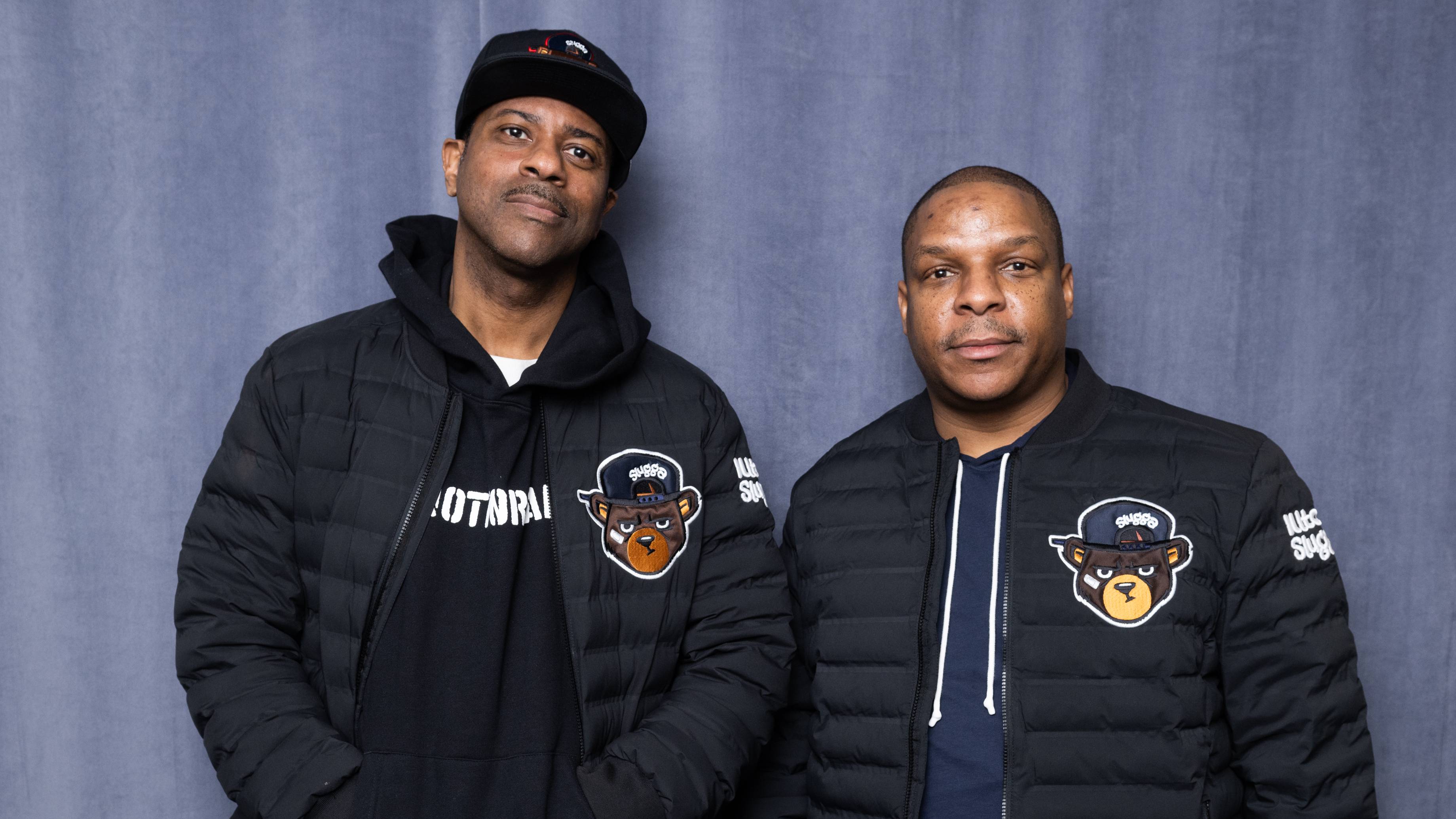 Vin Rock and KayGee, previously of Naughty by Nature, currently go by the duo moniker Illtown Sluggaz, but their Naughty past will always be in their blood. The same can be said for R.L. from Next who has been working in an independent capacity for some time but never forgets his roots.
It's that rich history that has the legendary hip-hop and R&B groups coming together for a new collaborative album under the joint handle Next by Nature. And while many prominent acts from hip-hop's rich history have come together over the years for fans, it oftentimes produced mixed results. That's not something you'll have to worry about these two though.
Not only has the recording of the new effort been easy, according to members of both trios, but that working relationship is nothing new. With both Naughty and Next being based in New Jersey, they've crossed paths dozens of times during their come-ups. KayGee has produced songs like "Wifey" and "Too Close" for Next, while Naughty has been featured on Next's single "Penetration," and more.
It's this friendship and camaraderie that's on full display via the supergroup's recently-released single "That's Me." R.L.'s smooth singing perfectly meshes with tried and true bars provided by Vin Rock and KayGee. It's almost like why didn't they think of this project earlier?
BET recently spoke with Vin Rock, KayGee and R.L. about the new joint effort, their past working relationship, the 30-year anniversaries of Naughty's third LP 19 Naughty III and landmark classic single "Hip-Hop Hooray," and more. Read below.
BET: Next By Nature. How did this collaboration come together and why was now the right time to work on a project together?
KayGee: It's always been talked about 'cause we're family. I produced Next from day one, so, it's always been something that we always talked about throughout the years. Even throughout our projects from the Next project, and even all the projects, we've always worked together on different stuff. And like I said, it's been a long time coming and we just felt like now was the time to do it.
Vin Rock: For me what really solidified it was, of course, we've been working together for years. And actually, we've been touching on these songs over the past almost like five years now. But in 2019, Naughty By Nature – and Illtown Sluggaz – we went on tour with New Kids on the Block. So we kind of saw how they collaborated with Backstreet Boys. We were supposed to do a Naughty x Kids on the Block album with them. But we were like, Yo, we have our guys Next. And to do a Next By Nature project only makes sense.
Robert "R.L." Huggar: And for me, we always consider ourselves the R&B version of Naughty, and what I mean by that is when you talk about the pinnacle of hip-hop, a lot of times for some reason people forget about Naughty. They have anthems and I know that we strived to have anthems when we came out. We wanted to be like them. There's not a basketball game, a cookout, a skating rink, or anything you go to where you're not going to hear a Naughty By Nature song. So our thing was always to say, Okay, we need to do that with Next. My cousin is Philip Bailey from Earth Wind Fire, so I knew I wanted to do anthems coming up and a record that will be timeless and must be cooked up with K, Vin and Treach and everybody. They basically put it in the atmosphere and showed us the blueprint of how to do it. So for us to be able to come together as one collective and create what our big brothers did is the reason that we're here.
BET: Do you get any inspiration from other legendary groups that have come together over the years to put out a collaboration project, because that seems like it's become more prominent more recently?
R.L.: Well, for me what I've seen – and I hate this word, it's the most disrespectful word of music to me or entertainment – is relevance. A lot of artists go try to search for a relevant artist to attach themselves with so they can become relevant again, which is again, a word that's mad disrespectful to me. For us. I think we're at a point in our careers where we can live off our discography right now, we can just tour, whatever. So when you can come together because of the love and respect and admiration for the gifts that you guys share and each have individually, it's almost like playing with house money because you're not creating to say oh, We need to create this because we need to come back out and make some money. No, we create this because we love it. We enjoy each other's talents together. So it was more of an organic thing instead.
KayGee: And plus it's not a reach. We all come from the same camp. So it's not reaching to work with somebody like our bro just mentioned, that's hot, or to say, Hey, let's try this. Let's try that. It's a natural thing that goes on with us because we are truly family.
Vin Rock: When you have organic creators by nature stuff like this just happens organically. Like R.L. said this isn't a cash grab. We have two super brands and two supergroups. Why not give it to the people? It only makes sense.
BET: "That's Me," the first single for the album seemed to fit together, which is not always what you get in a collaboration between groups. How did that one specifically come together?
KayGee: Well, that's a record that started with R.L. That was his brainchild, he started with it. He had the song done and I heard it and it was raw. I just said, Hey, that's dope, man, let's build upon on that and let's take it to the next level. So I took it home with me and worked on it and we bought it home.
R.L.: It's kind of crazy because even now when I'm in the studio with Kay I'm nervous because I remember hearing his car pull up and running downstairs at his back house when he was coming in so we could record or I could record or we could record a lot of times, I was the first one up. And he was the architect and I would watch him and I would see him press these buttons and do these different things and I would be amazed but confused. I had no idea what he was doing. But I would always make it a point to stay in the studio while everybody was in the lounge playing video games or eating or on the phone. I just wanted to watch him because I admired him so much. So it was a role reversal when he flew out to Atlanta and came to my studio. He sat on the couch and would AirDrop me a couple of beats and go, "Okay, what are we doing with this?" Or I would play him some joints and he'd go, That's it, send me that! I mean, clean it up and let's go." It was just fun.
BET: You will also be at the Wellmont Theatre in Montclair with Funk Flex, Amerie and AZ, and you'll be performing "That's Me." Tell me about that…
KayGee: Once again, this whole thing is all about having fun and enjoying what we do. We got in his game to have fun, we got in his game and fought tooth-and-nail to get in his game, to show what it is that we can do and what it is that we do. And we're gonna continue to do it. Here we are 30 years later, celebrating 30 years of "Hip-Hop Hooray", 30 years of our second album. We want to celebrate that at the Wellmont we're going introduce a lot of new things there. We're going to showcase Next and have them out their headline and show thanks and appreciation to Jersey as well for being a part of their careers.
R.L.: I can remember when we first were in downtown Newark standing next to the Robert Treat Hotel, buying all the clothes from the vendors thinking they were real. Like literally making $20 stretch for days at a time. And now coming back and being a main act on a legendary show with a lot of artists that we respect so much. AZ, come on, now. Let's be honest about Amerie who has the summer anthems when it gets hot outside. So for us to be able to partake in this and celebrate along with our family – it's gonna be a family reunion. I think the only thing that'll be missing is the drunk uncle and the barbecue.
I just want to reinforce this: this was an opportunity for us. We're still fans of Naughty By Nature, so to be able to have our name a part of that logo is one of the highlights of my 25-plus-year career. So I do want to take this time to thank my big brothers because I wouldn't be here holding this dog in this wonderful blessed home without them, putting your work in before they knew me and also working on me after they knew me and believing in me. So, fellas, thank you.
BET: I don't know if you saw the viral tweets that LL Cool J made in explaining what "Pink Cookies in a Plastic Bag" meant, which kind of threw some people. You guys have a song that one could ask a similar question about with "O.P.P." Can you explain the inspiration behind the title and the song kind of the details behind the name?
KayGee: It was a joke, to be honest. We had a guy that used to hustle out on the block with us. He was like from another area where he would come over to our area and we always bothered him or whatever. We went to school with him so he was cool with us, but we just was like, "Yo what are you doing over here man you out of your territory?" He like, "Well, O.P.M.: other people's money." So basically like I'm stepping on people's toes so I'm down with other people's money or whatever. I'll take you guys' money, I'll take whoever's money or whatever. And we just started joking around with it one day, just like you O.P.M.: other people's money,  we O.P.P.: other people's property.
Vin Rock: Even back in high school it was like a puppy love situation where I was talking to this girl, and she was actually dating a guy that went to another school and he played basketball. So we had a mutual friend who played basketball with that guy who went to our school at the time. So the guy was like, "Hey, Vin, you talk to that girl?" I was like, Yeah, she has a boyfriend that goes to another high school. So I approached her about it and she was like, "Yes, I do, but who told you that he's a dead giveaway? But the bottom line is she was still down to talk to me. So that was other people's property, you know, and we combined the two: O.P.M. with O.P.P.
BET: Last month was the 30th anniversary of 19 Naughty III – technically your third album. What were some of the best memories of recording that one?
KayGee: I remember us working on it because we primarily worked on that on a tour bus because we're running around from our first album being so successful. We went on tour and I remember Tommy Boy all the time saying, "Hey guys, yeah, touring is great, but we need to get a new project, we need to get a new project." We were just working on it and I definitely remember that record – a lot of it being crafted with the idea of the hook and all of that was already in place, the beat being played a lot on a tour bus.
BET: It's also technically the 31st anniversary of "Hip-Hop Hooray," which is still a song that is played a bunch today and has stood the test of time. Can you take me back to recording and creating it?
KayGee: I remember us actually finally finishing the record up and us going to KMEL Summer Jam and we basically presented it for the first time out there. That's actually where the whole [hands swaying back-and-forth] actually on stage, it was impromptu with the crowd. We performed it at the Summer Jam and the radio station called Tommy Boy the next day and told them, "Hey, give us that record immediately." Tommy Boy didn't even know what they were talking about. That's how it was at that time. We were actually behind giving in the project [because of] how much we were moving and touring and on the move, trying to tour and record at the same time.
Vin Rock: Another cool thing about that record was getting Spike Lee to direct the music video. Back then in '93 Spike Lee was red hot and would make all of those super movies. So for him to agree to film that video for us. It was crazy. We filmed in New Jersey, and we filmed in Brooklyn. I just think the overall feel and vibe of that video – being in the neighborhood, making all of our people a part of the video. They were the co-stars of that video. It's nothing but masses and masses of people in that video. I think it just kind of like reflects what hip-hop is all about, although it was shot in the hood, and of course, being in the inner city has its challenges, but because of music and culture it brings everyone together and you kind of forget about all your woes. You're able to come together and in unison like hip-hop is peace, love, unity, and having fun. I think Spike Lee directed that video and brought that together.
KayGee: Thinking about the title and what the song was really about. It was basically giving props to hip-hop for everything that it has done for the culture, for us, for everybody. I mean, Treach shouts out a lot of people in the record: "Peace to L.O.N.S. and Quest, Nice & Smooth and Cypress Hill." Run-DMC was in that video, Eazy E was in the video. Latifah was in the video. Monie Love was there. Shoot, Tupac was there, too. He just didn't make the cut. They cut him out of [Salt-N-Pepa's song] "Whatta Man" and he didn't make the edit for "Hip-Hop Hooray." Shout to the youngsters that was there, it was a lot of people. We had a lot of people in the building.