Watch: Serena Williams Talks Drake, Rihanna and Beyoncé
This was all part of her 73 Questions with Vogue feature.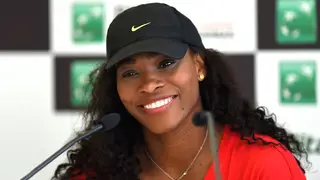 Serena Williams will have a chance to capture her 23rd Grand Slam title with a win at the US Open, beginning next month.
Meanwhile, the queen of tennis carved out some time to recently sit down with Vogue for its 73 Questions feature.
During the rapid-fire Q&A segment, Williams serves up some familiar names in the form of ex-boo Drake, Rihanna and Beyoncé.
When asked who's the funniest person she knows, Serena was quick to mention "Aubrey" — Drizzy's government name — because, well, they're on a government name kind of basis.
Not so funny was the moment Serena was asked about the most romantic thing a guy has ever done for her and she responded, "It hasn't happened yet." 
Aww. Serena deserves that.
The segment also had Williams sharing that RiRi's "Work" is her favorite song to dance to and that Beyoncé thought her "7/11" tribute "was really cute."
Check out Serena answering those questions and more here.
And if you have about nine minutes to spare to watch Serena answer all 73 Questions, peep the video in full.
From there, she would only need one more Grand Slam title to tie Margaret Court's 24 for the most major championships in women's singles tennis history.
We are witnessing greatness and history in the making.
BET Sports News — Get the latest news and information about African-Americans in sports, including weekly recaps, celebrity news and photos of your favorite Black athletes.