[Watch] Did Nick Young Get Caught Out Here Again?
Is this new cheating footage?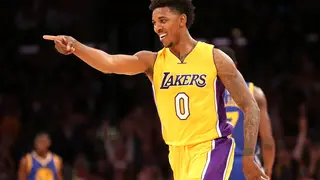 Just when it looked like Nick Young was out of the dog house... there's more messiness.
According to TheShadeRoom.com, a Memphis woman who goes by Britt (@ItsBrittBiotch on social) is calling out Swaggy P, alleging that they've been seeing each other for a couple of years and she has receipts in the form of alleged texts messages and a video of Young that she claims was shot this past February.
Hmm... the Lakers did have a home-and-home series with the Memphis Grizzlies in February with the Purple and Gold in town on February 26, so there could be some truth to this.
The 13 seconds worth of video footage shows Young on his laptop and cellphone in what appears to be a hotel hallway as he attempts get out of the view of the camera, before exchanging laughs with the alleged woman.
Doesn't look good, Nick, especially considering the fact that Iggy recently told Wild 94.1's Orlando and the Freak Show that she would chop Young's manhood in half if he ever gets caught up in another cheating scandal.
BET Sports News — Get the latest news and information about African-Americans in sports, including weekly recaps, celebrity news and photos of your favorite Black athletes.
(Photo: Stephen Dunn/Getty Images)