This Day in Black History: Feb. 23, 1929
Baseball player Elston Howard was born on Feb. 23, 1929.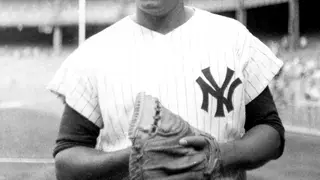 (Photo: Arnie Lee/WikiCommons)

Baseball player Elston Howard, born Feb. 23, 1929, in St. Louis, started his career in the American Negro League before being scouted for Major League Baseball. During his 14-year career, Howard served as catcher, left fielder and coach.
Eight years after Jackie Robinson broke the color barrier in the major leagues, Howard became the first African-American to play for the New York Yankees and has the distinction of being the first Black player to win the American League's Most Valuable Player in 1963.
In addition, Howard won six World Series, two Gold Glove Awards and his lifetime fielding percentage, .993, was a major league record from 1967 to 1973.