Issa Rae Would Tap Lil Kim As Her Rap Group's Hip Hop Mentor
The actress and showrunner Syreeta Singleton also dish about their new series 'Rap Sh!t'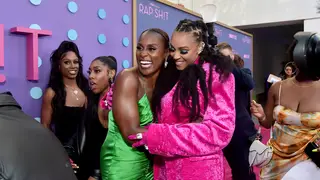 Issa Rae can rest knowing she has another hit on her hands as her "sophomore album," Rap Sh!t, is already getting buzz as this summer's tasty, must-see new series on HBO Max.
The six-episode series follows two estranged high school friends from Miami, Shawna (Aida Osman) and Mia (KaMillion), who reunite amidst adversity to form a rap group. The series also stars Devvon Terrell, RJ Cyler, and former Bad Girls Club star Jonica Booth.
BET.com was able to chat with the award-winning Issa Rae and showrunner Syreeta Singleton about the new offering, how it serves as a love letter to hip hop culture, and their top three women MCs.
BET.com: Aida Osman was originally brought on as a writer for 'Rap Sh!t,' correct? What did you see in her that elevated her to main cast? And how do you hope audiences see themselves in both Shawna and Mia?
Issa Rae: Aida auditioned and that's the first time that we both saw her — [and] we really loved her. For the Shawna character, we searched far and wide but she came in the first batch of auditions and we both responded to her well. We put her to the side and [Syreeta] interviewed her for the writers' room first.
Syreeta Singleton: I interviewed for the writer's room and if I can be transparent — I knew she was hilarious because I had already seen her work. I thought she was so creative and an out-of-the-box thinker. She knew so much about social media and I've said this before — she has a calming presence. During our Zoom interview, I was told I was in close contact with somebody and I got online with her and she calmed me down. Not only is she super talented, but she's also a good person. That's how we like to work — we like to work with good people. As we went through the audition rounds — callback after callback, she continued to rise and rise to the top. I knew she understood the character and in so many ways was parallel to [Shawna] in so much of what she was actually experiencing.
BET.com: Rap Sh!t is empowering but also highlights the abundance of women MCs there are in hip hop and pop culture dominating the scene. Does this show serves as a "love letter" of sorts to the culture's current state of diversity and inclusion?
Singleton: Yes it does, absolutely. Issa and I both are huge fans [of hip hop] and we're Black women who are used to having people on the outside have ideas as well as projections of what should be right. We're both artists and artists in different media but at the same time, we understand and like to be inspired by what's happening now in women in rap. It's like entrenching yourself in something you love. I was just saying I'm such a lover of blogs, like messy, messy blogs [laughs]. I love it.
BET.com: Sometimes messy can be good.
Singleton: Exactly, and it's good to create stories — to see what is happening in these people's lives and what leads people to do rap is usually some real stuff happening. It's like you have a story to tell. Being able to really dive into that on a regular basis is like merging both of our loves.
BET.com: You have a chance to make a rap group with any actress… who are you tapping to be a part of the duo with you and which female rapper are you tapping as your mentor and why?
Rae: My answer is easy — Regina Hall would be my rapping partner. She's the most hilarious, she's an icon, and I would be honored. As far as a rap mentor, I would choose Lil Kim hands down. She's also an icon, has been the foundation and the blueprint for so many women who came after her, and she is only to be respected.
BET.com: In the series, we see sex workers displayed in each episode…why was adding this element to the series important?
Syreeta: I think it's interesting because we are talking so much about sexuality in the show and double standards and all of these labels women get. And then you have characters like Chastity's girls, who are all so different; so funny, playful, and about their money. They work hard, just like other people work hard in their professions. Having a character like Chastity who was a pimp and has these girls, we wanted to make sure that they felt like real people and not just like, 'here's a sex worker." No, this is an individual. This is Jazmin - she is goofy and outspoken and tells crazy reenactment stories. Here's Treasure, who loves to be on her Snapchat and loves her social media presence, and everything is funny to her. Here's Peaches, who is "over it" consistently and is just here to get her money. And Deja who's ambitious and smart. She's a businesswoman. They are all very different. They are women first and sex work is just what they do. It gave us an opportunity having that character of Chastity. It was fun to write. And again, it goes within the world. We are representing so many different types of women in this show and we just wanted to do so fairly. And sex workers are women who deserve to be represented too.
BET.com: Mia has a comical moment when she addresses the old her and the new her …. What does this Issa have to say to the old Issa? 
Issa: Stop comparing your journey to others! Your path is your path and no one else's.
BET.com: Who are your top three favorite women MCs that are out right now or in your top 5 of all time?
Syreeta: The first two you have to mention are [Ms.] Lauryn Hill and Lil Kim. Right now, I love all the girls — I will say I love me some Doja Cat. I love her albums and her music takes me to a space.
Rae: I'm going to go for the right now because, for all of them, it could be too much pressure. I have so much respect for all the women who paved the way. Right now, I'm going to say Cardi B and Megan Thee Stallion.
While we love all the girls, get ready to see some new blood drop some bars as 'Rap Sh!t' premieres Thursday, July 21st on HBO Max.
Ty Cole is a New York-based entertainment reporter and writer for BET.com who covers pop culture, music, and lifestyle. Follow his latest musings on Twitter @IamTyCole.