Watch! One of Rob Kardashian's Exes Claps Back at His Reality TV Shade
She's setting the record straight.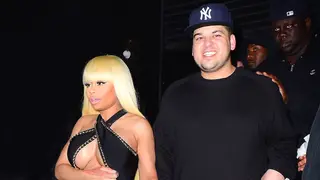 On the last episode of Rob & Chyna, Rob Kardashian poured his heart out about a past relationship "where the girl was cheating and having sex with so many different people." 
While, to most of us, it was pretty clear he was referring to Rita Ora, his other high-profile ex, Adrienne Bailon, felt the need to go on the record and let the world know he wasn't talking about her.
On the latest episode of The Real (airing Wednesday, September 21), Bailon asserted, "I absolutely never cheated on Rob. And I just want to clarify that. And the way it's said — it's like, 'She slept with many people.' I'm like, 'Uh, I can't speak for anybody else, but I can assure [you] that was not me.'"
She did go on to say she understands how he feels being cheated on, considering he, in fact, was the one who cheated on her:
Hopefully that's the last time Adrienne will ever need to comment on her relationship with Rob!
See the adorable way Rob and Chyna revealed the sex of their baby with BET Breaks, above.