Gabrielle Union And Dwyane Wade 'Split Everything 50/50'; Social Media Reacts
The power couple also acknowledged that they each care for 'other households' than their own.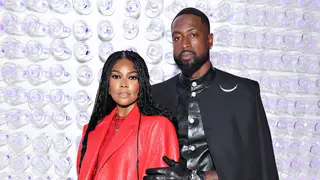 In a recent interview with Noah Callahan-Bever on his Bloomberg Originals series, Idea Generation, actress Gabrielle Union shared that she has yet to feel the sense of security that comes with steadily working in Hollywood.
"I struggle with that," she told Callahan-Bever. "I think I just have more responsibilities for my money. So I get nervous like, 'Oh my God that movie didn't open [well]. What does that mean? Am I going to have enough to hold everybody up? And everyone's like, 'It's coming. Calm down.' I'm trying to find peace in the journey, not using my anxiety and scarcity mindset to be my engine, which is hard."
"In this household, we split everything 50/50," she added. "But in the other households that each of us have to support, there's always this gorilla on your back that's like, 'You better work! You're going to sleep in? Somebody might not eat.' It's hard. It's hard to let that go, so I'm working on it."
The idea that she and her husband Dwyane Wade share expenses when the former NBA star has a net worth of more than $150 million while hers is significantly less sent the internet into a tizzy.
"Gabrielle Union said she go 50/50 with a man who is a part owner of an NBA team. the lights are on but ain't nobody home," one user wrote. 
"Women are terrified of 50/50 because the unpaid labour is rarely 50/50 - so women end up being exploited. This is a working class, poor people issue. Please stop projecting on to millionaires Gabrielle Union, and Dwayne Wade," another pointed out. 
Yet others shared that Union and Wade's circumstances are markedly different from the average couple. "Let's wrap this conversation about Gabrielle Union & D WADE up because the only logical answer to all the questions is: DO WHAT WORKS BEST FOR YOUR HOUSEHOLD! Keyword: YOUR."
Still others are comparing the 50-year-old actress to Savannah James--wife of LeBron James who recently shared that she chose to focus on her family instead of entrepreneurial efforts like many other NBA wives.
Meanwhile, Union is starring in a new movie for Netflix. In The Perfect Find Union's character is Jenna Jones--a 40-year-old woman balancing her career, her ticking biological clock, and her bank account. She risks it all for an intense, secret romance with the one person who could destroy her comeback.