Gabrielle Union's 'My Journey to 50' Special To Air On BET+
Gabrielle, family, and friends travel throughout Africa to celebrate her 50th birthday in the two-part special premiering on June 15.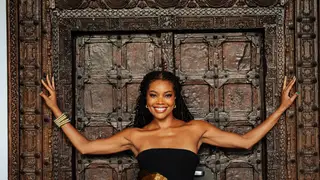 BET is set to air a two-part docuseries entitled My Journey to 50, produced by Gabrielle Union, marking her debut project under her overall deal with the network announced in June of last year. The show chronicles Union's travels across Africa, from the island of Zanzibar to the coast of Ghana, Namibia's parks, and South Africa's nightlife, in the company of her husband Dwyane Wade, family, and close friends, as she celebrates her 50th birthday.
In the series, viewers will witness Gabrielle's growth as a person, both past and present, through her journey. She explores her roots, gains insight, and discards what no longer serves her while also encouraging others to reconnect with themselves and their authentic selves. The show promises to be a celebration of the most genuine and authentic parts of ourselves.
"I've always had a lifelong thirst for knowledge. Connecting with the birthplace of civilization and my own ancestry helped me inch closer to my true self," said Union. "There was no other place I wanted to spend my 50th birthday. It was an experience I'll never forget and I'm excited for audiences to join me on the journey."
The series premieres on June 15 on BET+.