Watch: Orlando Officer Debra Clayton Brutally Shot and Killed by Man Suspected in Pregnant Ex's Murder
Officials have started a manhunt for Markeith Loyd.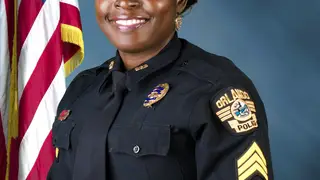 Early Monday morning (Jan. 9), an Orlando police officer in search of a murder suspect was fatally shot, reported CNN. 
The Orlando Police Department identified the victim as Master Sgt. Debra Clayton, who was a 17-year veteran of the force and a mother of two, according to officials. 
Clayton was "committed to our youth and the community," OPD Chief John Mina said during a press conference. "Debra Clayton is a hero. She gave her life protecting the community she loves. She will be deeply missed."
Chief Mina said that Clayton was attempting to contact a murder suspect at an Orlando Walmart around 7:17 a.m. Minutes later, police received a call of an officer shot.
Witness James Herman told WFTV the gunman was wearing a security uniform.
"He walked by me, had a security vest and everything," Herman said. "I was walking down the sidewalk, right past the officer, and I heard her tell him to stop, or whatever, and he shot her. He shot her down."
After the shooting, OPD identified the suspected killer as Markeith Loyd, 41. Loyd has been on the run from police since December, when he was accused of murdering his pregnant ex-girlfriend, Sade Dixon, 24, reported Buzzfeed News. 
The OPD immediately started a manhunt to search for Loyd.
Additionally, an Orange County deputy was killed in a motorcycle accident while assisting with the search for Loyd. 
"Not only did we lose an Orlando police officer today, we lost an Orange County deputy sheriff as well who was traveling on his motorcycle," Orange County Sheriff Jerry Demings said in a press conference. "A motorist turned in front of him. Based on eyewitness testimony, he had a green light, he was not traveling at any (high) rate of speed."
The deputy's name has not been released pending notification of relatives.
As the search continues, the Orlando Police Department mourns the death of Clayton. 
Police are offering a $60,000 reward for information that leads to the whereabouts of Markeith Loyd. He is assumed to be armed and dangerous.