Unemployment Rate Rose to 9.2 Percent in June
The jobless rate for African-Americans was unchanged at 16.2 percent, frustrating Black lawmakers and job seekers.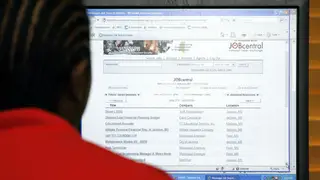 Though employers hired 18,000 workers in June, the overall unemployment rate for the month inched higher, to 9.2 percent, compared to 9.1 percent in May. The jobless rate for African-Americans was unchanged at 16.2 percent.

"We've now had 16 straight months of private sector job growth and added more than 2.2 million private sector jobs in this span. Our economic recovery is being, and needs to be, carried by the private sector," said Secretary of Labor Hilda L. Solis. "But we need to see businesses do more to employ American workers. Many companies have had a great year and are sitting on large piles of capital. It is critical that they begin to turn their profits into jobs for the American people."
Members of the Congressional Black Caucus, who are laser focused on job creation, particularly in African-American communities, and preparing to launch a series of job fairs, are growing were disappointed but unsurprised by the Black unemployment rate, which refuses to budge. Rep. Elijah Cummings and others blame it in part on Republican efforts to reduce state funding that have had an adverse trickle-down effect and their seeming lack of commitment to crafting legislation that would directly create jobs.
But, Cummings adds, the African-American jobless rate would be significantly lower, at around 11 percent, if more people not only completed high school but also sought post-secondary skills and training. For every low- or no-skill job available, he said, there are 15 people to trying to fill it.
"Some kind of way we've got to begin to figure out how we get our folks, the ones most affected by this job situation, the training they need so that when opportunities are available, they can take advantage of them," Cummings said, adding that he would like to see President Obama do more to target training dollars in areas where they're most needed.
The Maryland lawmaker, who lives in inner-city Baltimore, also worries that more people will turn to or return to crime as a way to provide for their families. He said that almost every week at least a few men in his district will share their frustration and fear that they may have to do something desperate.
"Mr. Cummings, I served some time in prison and I can't find a job. Everywhere I go the doors are closed," they tell him. "I've got to support my family, so I may have to go out there and do something," which means commit a crime.
Cummings says that means hard-working people who are lucky enough to have a job but still don't have much, are made more vulnerable to what he calls the "bottom feeders," people who will rob those working people because they have no alternatives.
Obama said at a press conference that "today's job report confirms what most Americans already know: We still have a long way to go and a lot of work to do to give people the security and opportunity that they deserve."
CBC Chairman Emanuel Cleaver (D-Missouri) said that the job numbers underscore the need for Black lawmakers to be even more vocal in making demands of both their Republican colleagues and the White House.
"We want the president to be on notice that we're going to be a lot louder. He has to weigh in on this issue," Cleaver said. "We hope we hear something soon and if we don't, we'll turn up the volume."
Related: One-on-one with Labor Secretary Hilda  L. Solis
(Photo: AP Photo/Rogelio V. Solis)