Look: Shemar Moore Sparks Gay Rumors (Again) With This Photo
He has the perfect response to all the haters.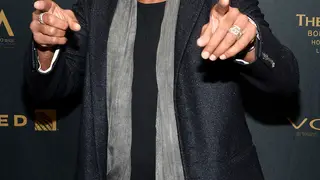 Shemar Moore just can't seem to shake the gay rumors. The Criminal Minds actor found himself at the center of speculation again this week after he posted a photo of himself and a friend, Marcus Smith, hanging out in Toronto on Instagram. Before long, his comments were filled with questions and, in some cases, rude remarks.
Here's the photo that started the chatter:
"S**t is gay son," one commenter wrote, while another got more explicit: "Wtf d**k and balls on his neck 👀 hershey highway action smh just a waist [sic] smh."
Shemar was quick to respond to the shade with a video message. "I'm not mad, I'm just bored," he said. "I'm just too real and too old for this s**t." He went on to say, "You want to throw shade, throw shade, but you're not going to stop me from winning."
Tell 'em, Shemar. 
Even more important than standing up against haters is acknowledging the fact that calling someone "gay" is not an insult. Watch BET.com's groundbreaking documentary Holler If You Hear Me: Black and Gay In the Church above to see the impact of LGBT shaming.