Deion Sanders Refuses To Claim FSU, Says He's An HBCU Grad In Exchange With Reporter
The Pro Football Hall of Famer expressed that his alma mater is Talladega College during a press conference.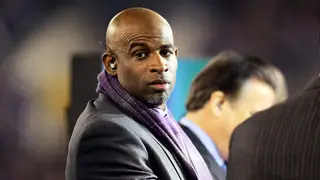 University of Colorado head coach Deion Sanders may have played his college football at Florida State University but he is proud of his HBCU heritage.
Sports Illustrated reported that during a press conference on Tuesday (August 29), Sanders shared how fellow Pro Football Hall of Famers Michael Irvin and Warren Sapp visited his team last week and the lasting impression they left on his players.
A reporter at the presser was puzzled that Sanders, who starred at Florida State University, would invite Irvin and Sapp who played for the Seminole's rival, the University of Miami to speak to his team.
"I've got to check you, though, because those Hall of Famers were all Hurricanes like myself — and you're a 'Nole my friend," the reporter stated.
Sanders asked the reporter if she or anyone attending the press conference knew his alma mater. One media member answered that Sanders graduated from Talladega College, an HBCU in the state of Alabama.
"I graduated from an HBCU, so I'm still a who?" Sanders asked.
"But you're still a 'Nole?" she responded.
"So I'm a who?" Sanders said with a laugh. "I'm a who? I thought it was where you graduated from, isn't it."
Sanders went on to explain that his ties to Talledega outweigh where he played collegiate football as a two-time All-American.
"I graduated from an HBCU," Sanders continued. "I thought it was from where you graduated from, isn't it? Why do you keep calling me that if it wasn't where I graduated from? I'm an HBCU grad."
Just before taking his first head coaching job at Jackson State University, Sanders graduated from Talladega College in 2020.
Some alumni from FSU took Sanders' comments about their school as disrespectful. Danny Kannell, who played football and baseball while attending FSU from 1992- 1995, shared his thoughts about Sanders' remarks on X (formerly Twitter).
"Wow. The lack of respect for the school that gave him his start is wild. The same school that retired his jersey. The same school that let him be 'Prime.' There is a way to handle this question and this ain't it," Kannell's tweet read,
As a defensive back for the Seminoles from 1985-1988, Sanders grabbed 14 interceptions, 287 interception return yards, and three intercepted touchdowns as a defensive back. As a punt returner, he posted 1,429 yards and scored three touchdowns in his four seasons. His number 2 was retired by FSU in 1995.
Sanders is set to make his debut as the Buffaloes coach on September 2 (Saturday) against the 17th-ranked Texas Christian University Horned Frogs.