Walter Wallace Case: Philadelphia Man Described As Close To His Family, But Struggled With Mental Illness
Two police officers gunned down the man in front of his mother.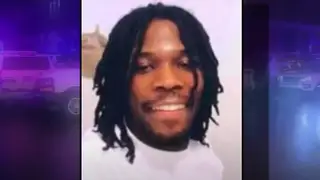 Update, Oct. 28, 2020:
Walter Wallace, the 27-year-old Philadelphia man who was killed Monday (Oct. 26) by police officers, was described by neighbors as close to his family and a "quiet kid" who drove for Uber Eats to make a living and a husband and father to eight children. 
"He was a family man," said Tasha White, who lives a few doors down. "He walked with his kids and he walked with his mom."
They also remembered that he was an aspiring rap artist who struggled with mental health problems over the years. According to the Philadelphia Inquirer, the court system had ordered that he get treatment after several criminal incidents. His family's lawyer, Shaka Johnson told the newspaper that his family called 911 on Monday reporting that he was having a mental episode -- its third call that day. His wife had told police that he was bipolar.
When officers arrived, they confronted Wallace who was carrying a knife and as his mother attempted to get him to drop the knife and telling the two officers not to open fire, he moved into the street, but was still a significant distance from the officers. When he did not drop the knife, they fired 14 shots , fatally wounding him.
"Officers who are properly trained should notice certain things when they arrive at a scene," Johnson said to reporters Tuesday on the steps of the family's home. "Especially when his wife tells you, 'Stand down officers, he's manic bipolar.' "
Johnson said Wallace had been taking medication for bipolar disorder. "The man was suffering. He was on doctor's care. He was on a regiment of lithium, etc., and the police were here earlier that day."
Anthony Fitzhugh, a cousin of Wallace's said the police knew he was experiencing a mental episode, but failed to try to calm the situation down and instead used deadly force.
"They were advised that he had mental health issues. I understand he had a knife, and their job is to protect and serve. By all means do so, but do not let lethal force be the means by which you de-escalate the situation," he said Fitzhugh.
As a result of the shooting, Philadelphia has seen two consecutive nights of unrest in which demonstrators have faced off with police, who stood behind barricades wearing riot gear. Businesses in several areas were damaged by looters, including many that had been ransacked in protests after the death of George Floyd. Wallace's father, Walter Sr., pleaded with the public to end the violence.
"Have respect for my family and my son and stop this violence and chaos that's going on in the city," he said. 
-------------------------
Protesters took to the streets in Philadelphia overnight Monday (Oct. 26) after police officers gunned down a 27-year-old mentally ill man from several feet away. His mother was seen on video pleading for officers not to shoot her son.  While the man was carrying a knife, witnesses say he was not attacking anyone.
The incident, which was caught on video, shows two police officers confronting Walter Wallace Monday afternoon while onlookers beg them to put their weapons down and his mother attempted to shield him from officers pointing their weapons. As the two officers back away from him, they open fire striking him multiple times. He was later pronounced dead at a nearby hospital. Neighbors were outraged after seeing the man being killed.
"I'm yelling, 'Put down the gun, put down the gun,' and everyone is saying, 'Don't shoot him, he's gonna put it down, we know him,'" witness Maurice Holloway told the Philadelphia Inquirer.
Wallace's distraught father, Walter Sr., told the newspaper that his son had struggled with mental health problems and was on medication.
"Why didn't they use a Taser?" he said. "His mother was trying to defuse the situation. Why you have to gun him down?"
Sgt. Eric Gripp, a Philadelphia police spokesperson, said that the officers, whose names have not been released, were wearing body cameras and that the department was investigating. They have been removed from street duty.
Into the evening, demonstrators shouting "Black Lives Matter" and "Say his name: Walter Wallace" moved to the nearby police precinct, angered over this latest incident involving police killing a Black person.
Protesters confronted officers who stood with riot shields and behind metal barricades. A throng of them moved into the University City area of Philadelphia where several businesses reported damage as a result. In one incident, a speeding truck reportedly ran over a police officer. Gripp said the officer, a 56-year-old woman was hospitalized with a broken leg and other injuries, according to CBS Philadelphia.
RELATED: Breonna Taylor Case: Michael Strahan Talks Louisville Officer Who Called Protestors Thugs About The Shooting During Tense Interview
About 30 officers were allegedly treated and released after the protests, officials say. Meanwhile, 30 people were reportedly arrested for various charges including looting, assault of officers and rioting.  
In a statement, Philadelphia mayor Jim Kenny promised  "a full investigation. I look forward to a speedy and transparent resolution for the sake of Mr. Wallace, his family, the officers, and for Philadelphia."
BET has been covering every angle of the police killings of George Floyd, Breonna Taylor, Rayshard Brooks and other social justice cases and the subsequent aftermath and protests. For our continuing coverage, click here.