Michael Jackson's Mother Set to Testify in Battle Against Singer's Estate
Katherine Jackson will be heading to court later this month.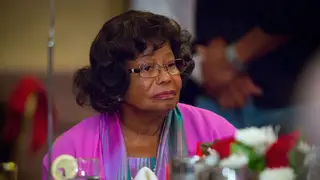 Michael Jackson's mother, Katherine Jackson, will appear in court later this month as part of the longtime battle over her late son's estate.
According to legal documents obtained by media outlet RadarOnline, the 92-year-old is seeking to stop a request for a "secret business transaction" set forth by John Branca and John McClain, the executors of Jackson's estate. 
In November 2022, the pair asked a court judge to approve and seal the move that was supposedly related to the $800 million sale of half of the pop star's music catalog.  In a letter to the court, Branca and McClain claimed that they "have an opportunity which they believe is to the substantial advantage of the Estate and in the best interest of the beneficiaries."
Michael's three children, Prince, Paris, and Blanket, are the beneficiaries of the estate. However, he did make a note in his will to provide for his mom for the rest of her life. It's also reported that the children have not objected to the proposed business agreement.
Last month, the Jackson matriarch filed a motion against the deal and asked that her filing be sealed as well, due to the records containing "sensitive information regarding Ms. Jackson's family and private life."
Branca and McClain took over control of the "Bad" singer's estate following his untimely passing on June 25, 2009. They have since argued that if anything, they've helped turn Michael's finances around since his death, claiming that his estate  was "teetering on the verge of collapse, with more than $400 million in debt that encumbered Michael's most significant assets and little or no liquidity or means to service that debt."
They also noted that Jackson objected to the deal for the 2009 documentary This Is It,--which the courts approved– ultimately becoming one of the highest-grossing concert documentaries in history.
A court date has not yet been revealed.