Nick Cannon Wants All His Children To Be Friends, Even If All The Moms Don't Quite Agree
The 'Wild "N Out' host recently opened up about his family in a freestyle rap.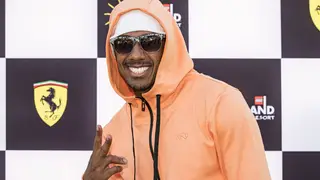 Nick Cannon makes one thing clear-that he loves his kids and that they will always be friends. 
In a recent freestyle rap Cannon performed on 106FM he mentioned that he's going to always love his kids, and their moms are no question a blessing. He continues with a message stating that all of his children will be friends even if their moms don't get along. 
He began his rap: 'I gotta say something to all of my kids, your daddy gonna love you whatever it is.'
Cannon then address the public perception of his relationship with his kids and their mothers.
He continued: 'Public opinions and public affairs/but f**k what they talking about. All of my children will always be friends, even if their mamas are not in agreeance... Cannon's a gang and we're in allegiance. Cannon's the name and they can achieve it.'
Watch the freestyle below. 
The 41-year-old mogul has six children: twins Moroccan and Monroe, 11, with ex-wife Mariah Carey; Golden, five, and Powerful Queen, 19 months, with Brittany Bell; and twins Zion Mixolydian and Zillion Heir, 13 months, with Abby De La Rosa.
His seventh child, son Zen, whom he had with Alyssa Scott, passed away just two months after he was born.
Recently, Cannon revealed he is expecting baby number eight with model Bre Tiesi later this year.