Photographer Andre Wagner's Portraits Of Everyday Black People In NYC Are Incredible
He teamed up with Hennessy for a short film revealing his creative process.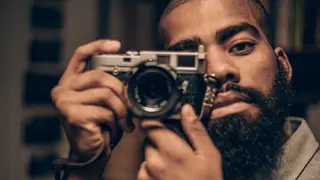 Andre Wagner is an accomplished photographer known for his portraits of Issa Rae, Erykah Badu and fashion design legend Dapper Dan.
As a part of Hennessy's "New History Vol. 1," where they're teaming up with today's Black creatives, the Brooklyn-based photographer shows how film is still king.
Taking to the streets of New York, he captures both candid and portrait photos of everyday people in the Big Apple, which are stunning. And while his photography is impressive, Wagner is also capturing Black History in the making.
See Andre Wagner's creative process below.