Watch: 'I Am Not Sorry' Dylann Roof's Prison Diary Details His Utter Lack of Remorse for Taking the Lives of Nine Black Parishioners
The Charleston racist is facing the death penalty.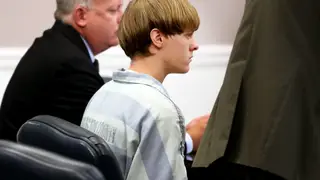 Just a few days after Charleston church shooter Dylann Roof took the lives of nine Black churchgoers in the name of white supremacy, he penned an unsympathetic message in his diary, reported Independent UK.
"I would like to make it crystal clear I do not regret what I did. I am not sorry," Roof wrote.
The journal was confiscated by the police officers when they arrested Roof. 
As questions of Roof's sanity began to play out in court, he continuously told jurors, 'there's nothing wrong with me' psychologically

Excerpts from his diary were made available in court

Although Roof was already found guilty of murder, he awaits a sentencing trial where he requests to represent himself. Although some tried to question his mental capabilities, the presiding judge ruled that we was competent enough to stand trial, where he faces the death penalty. 

Judge Gergel ruled that the 22-year-old was competent to stand trial and represent himself

As his trial continues to unfold, many are hoping that he receives the harshest punishment