Young Genius!: Nick Cannon's 5-Year-Old Son Goes To 2nd Grade With A Big Smile On His Face
Join us in sending gold stars to Golden Cannon for his wonderful achievements!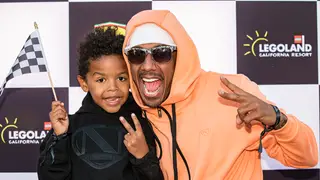 Golden Cannon is going to the 2nd grade! Nick Cannon proudly announced his 5-year-old son's big academic achievement on social media.
"Yesterday was the first day of 2ND GRADE for MR. GOLDEN CANNON!! (And he's only 5 years old!!!)," the proud dad wrote on Instagram. "Congratulations Champ!!"
In the back-to-school photo, the cutie flashed a big smile as he posed in his uniform.
The talk show host went on to praise Brittany Bell for her smarts, writing, "I can't take none of the credit though! He gets his genius from his Mamma!"
In April 2021, Bell happily announced, "This boy has such a gift for learning and has been a joy to pour into. He has skipped preschool, pre-k, and now kindergarten- straight to first grade."
She contined, "Emotional intelligence and cognitive abilities are key in balance before any acceleration should be permitted!! He has been a special spirit in both areas!!"
FYI: Nick Cannon and Brittany Bell are expecting their third child together. The couple announced the baby news on August 24 with a sweet maternity video. 
Join us in sending gold stars to Golden for his wonderful achievements!