Hip Hop Awards 2023: 5 Tracks Where Alchemist's Production Took Center Stage
Get familiar with these gritty masterpieces.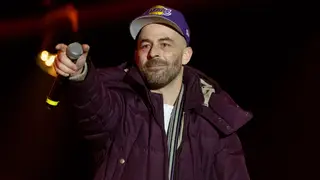 The genius of producers has undoubtedly shaped the world of hip-hop, and among the legends, The Alchemist stands tall. With an ability to blend soulful samples, gritty beats, and innovative sounds, the industry veteran has redefined the very essence of hip-hop production.
The California native has been widely recognized for contributing to the art form, including earning a nomination for "Producer of the Year" at the upcoming "BET Hip Hop Awards" 2023 hosted by rapper and co-executive producer Fat Joe.
The legendary producer is up against several talented acts, including ATL Jacob, DJ Khaled, Dr. Dre, Hit-Boy, Hitmaka, KAYTRANADA, London on da Track, and Metro Boomin. To find out who will win, you must tune in on Tuesday, October 10, 2023, at 9 PM ET/PT on BET.
"Hold You Down"

Alchemist's haunting beat sets the tone for this track, with Prodigy's menacing lyrics and the vocals styling of Nina Sky. The song features a verse from Illa Ghee and Alchemist himself.

Kendrick Lamar — "FEAR"

Alchemist brought his signature sound for Kendrick Lamar's "FEAR" from the rapper's Pulitzer Prize-winning album, "DAMN."

Freddie Gibbs and The Alchemist -- "Scottie Beam"

Alchemist's beat on this track is hypnotic, providing the perfect backdrop for Freddie Gibbs and Rick Ross' verses.

Cam'Ron — "Wet Wipes"

The beat perfectly complements Cam'ron's aggressive lyrics and confident delivery.

Jadakiss - "We Gonna Make It"

Alchemist's production on "We Gonna Make It" is a masterclass in minimalism. This track became a hip hop anthem.

Watch the Hip Hop Awards 2023 on Tuesday, October 10, 2023, at 9 PM ET/PT on BET.