[Exclusive] Amandla Stenberg: 'Hollywood Is Feeling the Pressure to Diversify'
The actress talks her new film, "Everything, Everything."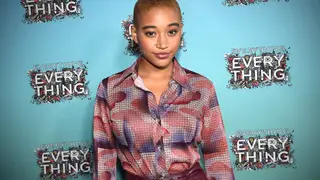 Amandla Stenberg is gearing up for the nationwide release of her highly anticipated new film, Everything, Everything based on the novel of the same name, and while promoting the project, she spoke exclusively with BET.com about her personal joys about the story and its creation.
One aspect of the film's inception that she's proud of is its diverse, female-led casting, and she specifically comments on how today's social media-driven generation has put the pressure on Hollywood to pump up the volume on diversity. 
"What was really interesting and important to me when I received the project was that it was this young adult romance story that maybe we've seen stuff like this before but featuring a Black girl as the lead," she said. "Yet, race is something that is not talked about in the film. It's not the point of the film, and yet, she is this lead character and she's the romantic interest."
Delving more into the narrative of a Black and white love story, the young actress/activist pointed out that while their differing races are apparent, it does not become the focal point of the film.
"I got really excited to see a Black girl lead with natural hair who's a romantic interest in an interracial relationship and yet, she just is," she added. "She's existing, and I think it's important to have roles with Black people, existing."
In addition to Stenberg, the film is also fronted by two other women of color — Anika Noni Rose and Ana de la Reguera. Speaking on the diverse girl power exhibited in the film, she touched on how this is pushing Hollywood to shine a light on diversity in more mainstream projects.
"It was crucial. It was most important to be a part of a project that would be led by three women of color and that's why I did the role," she said. "I think that right now is a really interesting time in Hollywood because we have social media and the ability to create our own platforms and reach people very quickly and we want diversity, and so we've been able to create it ourselves through social media, and I think Hollywood's feeling that pressure."
Everything, Everything hits theaters, nationwide, on May 19.
Watch the actress and her co-star Nick Robinson also talk about the public's perception of interracial relationships and love at first sight in the exclusive clip, above.