Xavier University Shooting Claims Life Of Grandmother Of 15 Who Was Attending Grandson's Graduation
Augustine Greenwood's family had a happy occasion turn into a tragedy: 'All you had to do was walk away,' her daughter said to the shooters.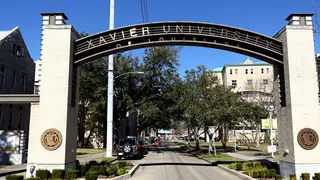 An 80-year-old woman who was fatally shot at a high school graduation Tuesday (May 31) on the Xavier University campus, was struck by a bullet just after seeing her grandson receive his diploma from New Orleans' Morris Jeff High School, NOLA.com reports.
Gunfire erupted in the Convocation Center parking lot and an errant bullet struck Augustine Greenwood, a mother of six and grandmother of 15, according to the New Orleans Police Department. Two other shooting victims suffered non-life-threatening injuries.
Greenwood's son-in-law, Corey Lashley Sr., told NOLA.com that the family was walking to their car when the gunfire started and noticed his mother-in-law was wounded. Greenwood was taken to the hospital where was pronounced dead.
"Instead of celebrating, we wound up sad, crying," he said, recalling his mother-in-law as a "sweet, loving person" who was kind to everyone she met.
Lashley said his wife, Geraldine Greenwood-Lashley, enjoyed going to the casino with her mom.
"I am in so much pain right now. Today, I lost my mother to gun violence," NOLA.com quoted Greenwood-Lashley's Facebook tribute to her mom.
NOPD said in a statement Tuesday that officers detained multiple subjects at the scene for questioning but have made no immediate arrests in the ongoing investigation.
"There was a fight that broke out between apparently two females. Subsequent to this fight, subjects produced weapons and shots were shot," CNN quoted New Orleans Police Department Chief Deputy Superintendent Christopher Goodly at a press conference Tuesday.
Greenwood-Lashley posted a message on Facebook to "the young ladies that started all of this," NOLA.com reports. "Today, you took my world away from me and my family, and all you had to do was walk away," she wrote. "You have ruined my son and family's world. All you had to do was walk away."
According to CNN, New Orleans Mayor LaToya Cantrell spoke at the graduation ceremony but departed before the shooting erupted.
Cantrell's office released a statement in which the mayor sent her condolences to Greenwood's family and condemned yet "another senseless act of gun violence" at what should have been "a celebration" of the students' achievement.
"Gun violence continues to plague our city, and we will remain laser-focused on leveraging local and federal partnerships to prioritize initiatives that address prevention strategies," Cantrell stated.
"However, we also understand that there is a higher degree of personal responsibility that needs to be present in order to de-escalate these situations. As we are seeing all across the country, gun violence is a disease, and the cure requires a collaborative approach involving each of us coming together to make our streets safer."