Aoki Lee Simmons Has A Savvy Social Media Strategy To Get Her Yale Application To The Top
Only the daughter of a supermodel and a hip hop mogul could pull this off!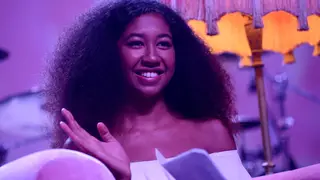 16-year-old Aoki Lee Simmons has a fool-proof plan to getting into her dream school—her followers! Let us explain. While her sister, Ming Lee, is branching out into modeling, the youngest daughter of Kimora Lee Simmons and Russell Simmons has her sights set on college, specifically Yale. Yes, the high school junior is already filling out her applications after going on a tour of the university.
"So excited that I SUBMITTED MY APPLICATION to @yale university! This is really my dream school and I did my absolute best putting this application together!!! I put my heart and soul into it!" she wrote on Instagram under a photo slide she shared of her application process.
But as she continued to write, it became clear Aoki had another strategy to make sure her application got seen by the admissions board in case her elite grades didn't suffice by using her 370k followers to get noticed by the admissions board.
"Fingers crossed I get in! Everybody tag @yale and @yaleadmissions and wish me luck ❤️❤️❤️❤️ so excited!!! #dreamschool #yalehopeful #gobulldogs it's in the hands of the lord and the admissions board!" she finished up the post.
We're sure the teen gets her resourcefulness from her parents, but obviously only the child of a supermodel and hip hop mogul could pull this one off. However, this goes to show that the college admission process is grueling even for the stars. Our fingers are crossed that Aoki gets in!