Confused AF: Joseline Hernandez's Rapper 'Ex' Blasts Her For Faking Their Relationship For The 'Gram
"I only knew shorty for like ten hours."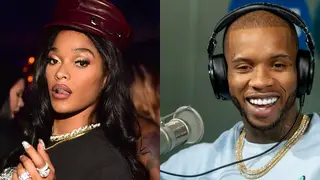 ICYMI: Back in September Joseline Hernandez sent fans into a frenzy after posting a half-naked photo of herself seated by the poolside with Canadian born rapper, Tory Lanez along with the caption, "Lil pool thang! @torylanez." 
Quickly many jumped to the conclusion that the photo confirmed they were dating, but according to Tory in a recent interview with Hot 97's Ebro In The Morning, that's far from the truth. 
In fact, according to the 26-year-old rapper, he was only invited over Josline's house to go swimming and admits he was "drunk," when he took the photo and expressed there's no way he was dating Josline because he "only knew shorty for like 10 hours," when the photo was taken.
"Oh no. Don't do that," said Tory responded when Ebro asked if he was truly dating Joseline. "She invited me over there to go swimming one day. It was the first day that I met her. I went over there, we went swimming, it was cool. They was taking some pictures. I'm not going to lie. I was drunk, bro'. She was like 'You want to take a picture.' I was like 'Yeah' … But that's Tory, that's me, I do sh*t like that, but I ain't know to the extent the world was going to take it."
Tory then went on to share that he didn't quite understand why the 32-year-old reality star continued to let the photo be taken out of context. 
"At the end of the day, I can't make it seem like what she said made it any better," he explained. "Like the whole extra sh*t, she was doing when I was going on tour, saying like, 'I can't wait for you to come back 21 days' and all of this extra sh–. Like I said, I don't have any problem against her, but I only knew shorty for like 10 hours at this point."
You can watch the conversation below where Tory debunks the dating myth. Start at the 13:20 mark to get to the conversation about Joseline.
"The Puerto Rican Princess," has yet to respond to the interview but we're quite positive the former Love & Hip Hop: Atlanta star will soon.