Bobby Shmurda Arrested for Smoking Weed
Brooklyn rapper believes he's being targeted by authorities.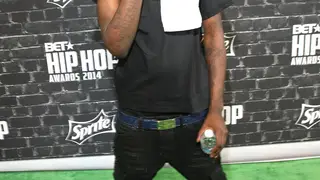 Bobbby Shmurda was arrested for smoking weed with friends in Brooklyn last week and subsequently released from custody, reports HotNewHipHop. The "Hot N----" rapper was busted puffing away with two friends while double parked in Brooklyn. He spent the night behind bars. 
Per TMZ, Shmurda believes that Brooklyn cops are targeting him because of his growing fame. The 20-year-old budding rhymer has only one hit single under his belt so far, but has recently signed to Epic Records. He was arrested back in June for felony gun possession and now believes that his notoriety has turned him into a target for authorities. 
After his most recent arrest, Shmurda posted a video on Instagram calling out the "Bum a-- cops" for locking him up and confiscating his personal belongings. "N****s took my car, my credit cards, everything. Tryna take my jewelry but it ain't nothin.' I make about 40 bands ($40,000) a week."
Shmurda missed a show because of his arrest. In the video clip, he promises to "make it up" to fans.   
BET.com is your #1 source for Black celebrity news, photos, exclusive videos and all the latest in the world of hip hop and R&B music.
(Photo: Bennett Raglin/BET/Getty Images for BET)