'Cosby Show' Actor Joseph C. Phillips Tapped To Be A Professor At Clark Atlanta University
"The secret is out," he said sharing the news on his official Facebook account.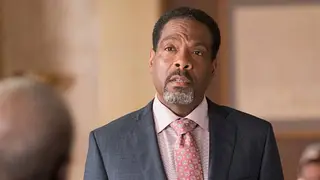 Joseph C. Phillips has joined the Clark Atlanta University faculty as a Theatre and Communications Studies professor.
"Joseph brings a wealth of awe-inspiring talent, meaningful engagement in the community, and a portfolio of informed, decisive commentary to the University," Dr. George T. French Jr, Clark Atlanta's president, expressed. "We anticipate that he will inspire independent thinking, civic responsibility, and a passion for interdisciplinary learning in our students—which aligns perfectly with our mantra to "lift our community by lifting our voices."
Phillips also confirmed the news on his official Facebook account on Sunday (Oct. 10).
"The secret is out," he wrote. "I'm loving my new gig."
In 1983, Phillips received his Bachelor's degree in Fine arts from New York University. His academic accomplishments include becoming a fellow at the Centennial Institute at Colorado Christian College, the Abraham Lincoln Fellow at the Claremont Institute, and the Robert J. Dole Institute of Politics at the University of Kansas.
He also developed and conducted a seven-week course called "Black Conservatism in America," at the University of Kansas.
During his acting career, Phillips played Lt. Martin Kendall on The Cosby Show, he also played Col. Gred Davis in Netflix's 13 Reasons Why and had other acting roles in How to Get Away with Murder, NCIS, and Good Trouble.
Phillips is also a three-time NAACP Image Award nominee for his portrayal of Attorney Justus Ward on General Hospital