Did Tamar Braxton Just Shade Toya Wright and Monica?
Serious side-eyes.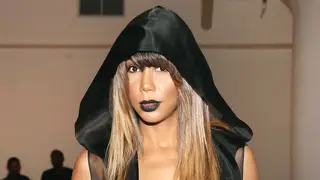 Looks like Tamar Braxton is still bitter about her departure from The Real earlier this year.
While Tay has kept her lips sealed about the drama in public, it seems in private she's still in her feelings about getting fired and is making her homegirls choose sides. According to Fameolous, Tamar is freezing out two of her closest pals, Toya Wright and Monica, for appearing on the talk show this week.
A tipster observed that Tay unfollowed Monica over the weekend as soon as a clip of her appearing on the season three premiere episode started making rounds. And she then unfollowed Toya on Monday, just a day before the reality star appeared on the show:
Coincidence or maximum petty? We're leaning towards the latter, considering Tamar also announced the premiere of her own talk show right around the time The Real premiered on Monday. Looks like we'll definitely have to tune in to get all the tea.
See what she told her solo show's executive producer about getting fired from The Real with BET Breaks above.