Vintage '80s & '90s Zaddies We're Thankful For: Where Are They Now?
Tyrin Turner, TJ Jackson, Bumper Robinson and more of our throwback celebrity man crushes!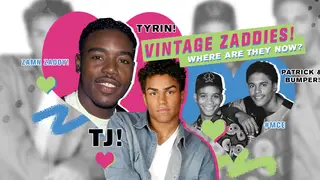 The holiday season always has us feeling nostalgic. This Thanksgiving, we wanted to give thanks to the hotties that graced our screens and magazines back in the day, long before Instagram and "Man Crush Monday" were ever a thing.
There was definitely something different in the water in the '80s and '90s, because everyone was FINE. Our list of celebrity crushes was extensive, including actors, boy band members and so many more, a lot of whom are flying under the radar these days.
Of course, there was Morris Chestnut, Will Smith and Jodeci (hello, DeVante!), but this holiday season had us wondering what some of our more low-key, underrated heartthrobs of the past are doing now. We're talking about Menace II Society star Tyrin Turner, 3T lead singer TJ Jackson and A Different World actor Bumper Robinson.
See Our Favorite Vintage Zaddies Then And Now:
Tyrin Turner

Look at that smile! Tyrin Turner stole all our hearts in his breakout role as Caine in the hit film Menace II Society in 1993. We were all entranced by his looks, even when we caught a glimpse of him in smaller roles in movies like Belly and Panther.

First of all, Tyrin Turner is still fine at 48. Second, Tyrin landed back on everyone's radar when his son, who goes by his rap persona, Lil Caine, popped up looking just like his daddy back in the day! Now, Tyrin, a.k.a. Big Caine, keeps it pretty low key but is still working his acting chops. You can catch him in films such as Meet the Blacks or in his guest role on Black-ish.

Bumper Robinson

Oh, Dorian! Bumper Robinson was literally every girl's dream man in the '90s. He definitely caught our eye as Laura's love interest on Family Matters but had us drooling as Jada Pinkett Smith's soft-spoken, well-mannered boo thang on A Different World. He continued to leave us wanting more as Ivan Ennis in Living Single and other projects. And his LL Cool J-level lip licking skills solidified his heartthrob status!

Bumper Robinson probably needs to drop his skin-care routine, because that skin is STILL glowing at 45! Barely aging, he's still voice acting and appearing on our TV screens to this day.

TJ Jackson

Tito Joe "T.J." Jackson really revived the legacy of the Jackson family with his superstar vocals but also his looks! Those eyebrows had teenage girls across the world swooning. Performing in a boy band 3T with his brothers, Taj and Taryll, we were all hooked after they released their first album in 1995. 

Patrick J. Dancy

Those eyes! Patrick J. Dancy was one of the most underrated hotties of the '90s, and we stand by this whole-heartedly. He was featured as the nerdy cutie on an episode of Saved By the Bell but captured everyone's attention on Family Matters, playing Ted Currens and acting alongside his on-screen boo, Kellie Shanygne Williams, who played Laura Winslow. We all wished we could have stole him away from Laura, tbh. 

At 49, we still want to steal him away, 'cause he's hot AF! Patrick is a fitness king and shows off all his sexy workouts all over the 'gram. We stan!

Garfield Bright

Garfield Bright was the epitome of a heartthrob! That jawline really had all the ladies swooning. As a member of Shai, Garfield had the ladies hooked with his silky smooth vocals on hit tracks such as "If I Ever Fall in Love" and "Baby I'm Yours."

Garfield Bright is now a salt-and-pepper zaddy at 50 years old! Oh, and he and the rest of Shai are still serving up silky smooth vocals to the same ladies who used to swoon over them in the '90s.

Tevin Campbell

Tevin Campbell was THE heart throb of the '90s. Kicking off his career at a young age, Tevin's powerful vocals really had us all wishing we had his phone number after releasing "Can We Talk?" He also voiced Powerline in 1995's A Goofy Movie, and if we're talking cartoon crushes, Powerline is it.

Tevin, now 43, is back and better than ever, performing his hit classics as well as recording new music. 

H-Town

The sexy men of H-Town were the original Houston hotties! Brothers Keven "Dino" Conner, Solomon "Shazam" Conner and their friend Darryl "GI" Jackson made up the group, and boy did they bring the sexy with songs like "Knockin' Da Boots" and "Part Time Lover." Who else could pull off wearing coordinating leather vests while shirtless?

In 2002, Dino died in car accident along with his fiancée, Teshya Rae Weisent. His H-Town brothers keep his memory alive by performing to this day.

Shavar Ross

Let's talk about Shavar Ross! He may have been a youngin' when he popped on the acting scene, especially in Diff'rent Strokes and Friday the 13th: A New Beginning, but he grew up and glow'd up in the '90s in shows such as The Fresh Prince of Bel-Air, Family Matters and more. He was an underrated cutie even though he always played the sidekick!

Shavar Ross fell off the acting scene, but he is still out here, y'all! Now, at 48, he is a proud papa of two.

Philip Michael Thomas

We know we aren't the only ones who were sneaking to watch old re-runs of Miami Vice just so we could catch a glimpse of Philip Michael Thomas as sexy detective 'Ricardo Tubbs.' He could arrest us any day!

After 11 kids, he still looks good! Philip Michael Thomas, who is now 70, is a vegetarian who doesn't smoke or drink, so it only makes sense that he has barely aged, burly beard aside.

Taimak

Taimak is best known for his part in Berry Gordy's cult-classic film The Last Dragon in 1985. His character, Leroy Green, was not only a martial arts master, he was also a master of stealing hearts!

At 55, Taimak, who is a real-life skilled martial arts professional, is still kicking butt in films and stealing hearts to this day.

Mario Van Peebles

Mario Van Peebles was a zaddy before we were all even checking for zaddies! He hit the scene as an actor but made a real name for himself as a director -- of cult-classic film New Jack City starting Wesley Snipes. We don't know what we loved more, his smile or the fact that he walked around with his shirt open.

At 62, Mario Van Peebles actually aged like fine wine, looking even better than he did back in the day. He's still directing, leaving us swooning with that smile and, oh yeah, leaving his shirt unbuttoned. He's pictured here with his actor son, Mandela Van Peebles, who is basically a reincarnation of his dad for any Millennials looking for a current crush.