Damn: Here's How Pusha T Found Out About Drake's Son...
"Was it Confucius that said, 'Often the thing whispered in the ear of your closest friend is heard 100 miles away by your greatest enemy'?"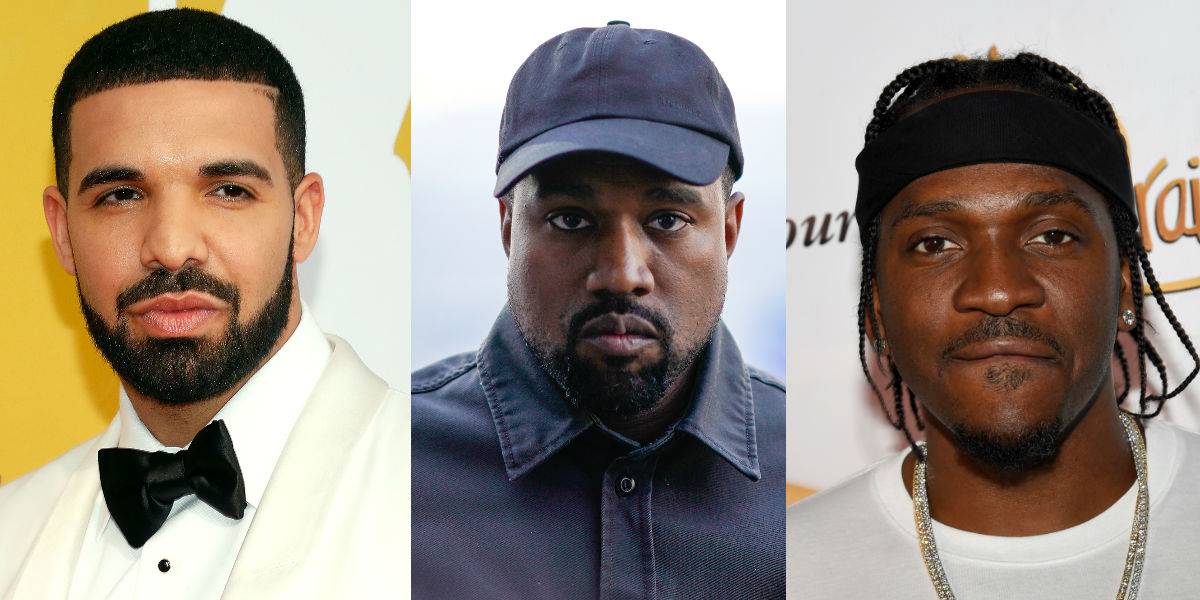 The hot-blooded rap war between Drake and Pusha T has come and gone in a matter of just one month, and everything has been laid out on the table, namely the burning question about whether Drake was really hiding a secret love child as Pusha accused.
Drizzy answered that last Friday (June 29) with his Scorpion single, "March 14"—among other allusions throughout the album—revealing his true intent behind keeping his child from the world (or hiding the world from his child, as he so delicately put it). Fans were pleased that he'd finally let the cat out of the bag, but there's still one question lingering in the smoke clearing away from the King Push versus 6 God feud: how exactly did Pusha get such confidential information to expose in his "Story of Adidon" diss track against Drake and ahead of the Scorpion release?
In a shocking twist, Canadian hit maker T-Minus and Chicago-native hip-hop wordsmith Malik Yusef both have one person in mind to answer that: Kanye West.
According to a new 'Rolling Stone' interview, T-Minus shared that even he had never heard 'March 14' prior to the Release of 'Scorpion'…but 'Ye did, and this turned out to be Pusha's smoking gun

"I never even heard the content of the song until the album dropped," T-Minus said in the interview. "It was something private; it was supposed to be kept secure. The information got out and I'm assuming that's how Push knew [about the child]."

Drizzy reportedly headed to Kanye's Wyoming hideout when he previewed the track, which also explains how he got that writing credit on 'ye's 'Yikes' single…

Yusef, who has a longstanding relationship with Yeezy and worked with him in Wyoming, said that he wasn't there as an eyewitness, but he knows how it all played out. "[Drake] played early versions of those songs and so on and so forth," he stated. "You gotta be careful how you move, I think. Not I think, I know: You gotta be careful how you move, what you say to people, what gets out, and the whole nine [yards]."

Perhaps unknowingly, Kanye was a vital part of the lovechild exposé that inflated Pusha's "The Story of Adidon" as well.

"Was it Confucius that said, 'Often the thing whispered in the ear of your closest friend is heard 100 miles away by your greatest enemy'?"

Yusef added that when Kanye called Drake to Wyoming, the energy was all positive. However, the tension between Drizzy and 'Ye's G.O.O.D. Music president went completely overlooked, which turned out to be a significant mistake on Kanye's behalf

"When Kanye called Drake to come out [and work], that was a good moment," he recalled. "But there were unresolved issues between him and Pusha that people should have paid attention to. You gotta have your ear on a swivel in this game – in this world period, but in this game. [You gotta know] who works with who, who talks to who, all that."

Elsewhere in the interview, producer and instrumentalist J. Valle added his thoughts on Pusha's ammo against Drake as well, especially considering how much work had went into the 'March 14' track

"I wonder what if Pusha-T never would have put out that diss – how much more of an impact would this song have had?" Valle said. "He's the bad guy now. He ruined how I could have taken in my favorite artist's life-altering moment."

Read what everyone had to say in the full feature here.