Body Party: The Most Talked-About T&A at the VMAs
The women of the night used the stage to show off their incredible bods.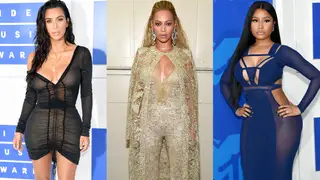 Social media timelines are still buzzing about the MTV Video Music Awards, which took place last night in NYC. And while the music and artists were center stage, let's not forget that the VMAs is where stars can make bold statements on the red carpet, too.
As per usual with the music crowd, there was plenty of skin on display on the carpet, and during the show. Here, the most talked about body moments of the night.
Kim Kardashian's post-baby transformation. Mrs. West has been working hard at getting back her 2010 curves, as she put it herself, and yesterday we got a good look at the impressive results. It's safe to say Kim has never been in better shape (even in 2010!) so we don't blame her for wanting to show it off. 
From the looks of it, Kim directed her glam squad to basically re-create her Mexican beach vacation look, with just the skimpiest of cover-ups.
Beyoncé's in control. It's not surprising that Queen Bey can defy gravity, as she can do anything, but even she is not immune to the allure of a strong control top tight. The Spanx devotee showed up with these and a layer of fishnets for her VMAs performance look, to keep everything in place while she worked it out on stage. 
Britney Spears takes us back to 2000. For her triumphant return to the VMAs after a near decade-long absence, Ms. Britney also brought back her "Toxic" era body: rock hard abs, toned legs and strategic, body-conscious cutouts.
Teyana Taylor's... everything. She's always been a bad b*tch, but the actress/singer/rapper became a certified star last night when she made her debut as the star of Kanye West's FlashDance-inspired video, "Fade." In just a crop-top and g-string (Yeezy collection, we're guessing), Tey flexed, gyrated and pranced her way through four minutes of film, and left the audience breathless by the end. Her body inspired a lot of gym goals come Monday morning.
Ashley Graham's bombshell body. Kim and Teyana aren't the only ones giving us body goals. The model and new America's Next Top Model judge looked stunning from tip to toe in this revealing beaded gown that shows off her gorgeous curves.
Nicki Minaj's extreme curves. Meek Mill is a lucky guy — and he certainly looked like he knows that judging from his mile-wide smile on the red carpet every time his bae was close by. Nicki delivered one of her most jaw-dropping looks to date in this gown that's equal parts scandalous and sophisticated. The magic of sheer panels and perfectly tailored cutouts gave us a good look at what she's working with, without straying into indecency. Those hips ain't lying, and they sure have a lot to say.
Rihanna turned on the sex appeal in a different way last night, naturally. In this crowd, RiRi was among the most demurely dressed of the night. Each of her four performance looks were considerably covered up, offering just a peek of skin or, in the case of the feather boa bra, abs, but that didn't mean the heat was turned down at all. In fact, the "Diamonds" singer proved that she can be as sexy as ever even while baring minimal skin. We know Drake agrees.