Many Are Criticizing Trump's HBCU Executive Order for Not Increasing Federal Funding
Was the recent meeting with HBCU leadership all for show?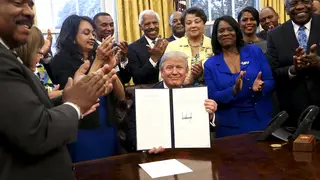 This week, President Trump met with several presidents and advocacy groups for HBCUs and promoted an image of solidarity with these statistically underfunded institutions. However, Trump's executive order ignores two key requests from the schools: increased federal funding and Pell grants. 
In December of 2016, the United Negro College Fund (UNCF) sent a memo to then-President-elect Trump informing him of ten ways he could assist in the advancement of Black higher education. The top priority of the memo was a demand for the White House to increase the HBCU federal funding, a priority that was ignored. 
However, the executive order did address their second priority — a White House summit with leaders of HBCUs.
HBCUs will now be advised and aided by way of the White House instead of the Education Department, which will hopefully give them more of a direct line to the president. Under the Obama administration, several HBCUs felt as if their ability to reach the president and the White House was difficult. 
In a nutshell, Trump's executive order does not strongly depart from an order signed by the Obama administration in 2009. It does call for an increase in the "private sector role" of HBCUs; however, placing education institutions under the umbrella of the private sector is not an idea that many stand behind.