Totally Unexpected: Aisha Tyler Has Found 'True Love' With This Actress
The divorcée recently confirmed her swirly same-sex relationship.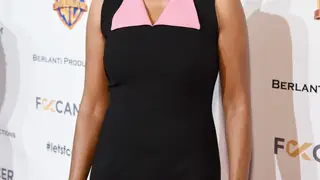 Aisha Tyler is deeply in love and recently confirmed to her fans that her significant other is, in fact, a woman.
The former The Talk co-host recently took to Instagram to share with her followers that she is currently in a healthy, swirly, same-sex romance with Arrow actress Emily Bett Rickards.
In an adorable Instagram post, the comedian posted a strip of photos of the two kissing and cozying up together. She simply captioned it, "True love."
Tyler and her now ex-husband, Jeff Tietjens, announced their divorce back in 2016 and the messy proceedings ended in the actress being ordered to pay $2 million plus $31,000 a month in spousal support.
Despite the messy divorce, she explained on The Talk, at the time, that their marriage did not fail and continued to speak highly of her ex.
"Even though we're separating, all I want for him is joy and fulfillment in whatever he chooses to do in his life, next," she said. "And whatever I can do to help him do that, I want to do it. I don't, not in any way, see this relationship as a failure. I was with this extraordinary person. I had this extraordinary love affair for 25 years of my life, and that is how I see it."
Now, the actress has seemingly found love again and she's reveling in the moment.
We LOVE a good love story.