Blac Chyna Is Reportedly Plotting the Most Vicious Revenge Against Kylie and Rob
More drama among the three.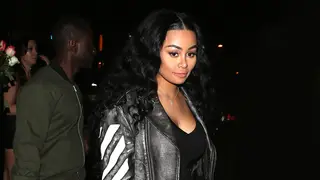 Blac Chyna is reportedly continuing her quest to destroy the Kardashian-Jenner family after they shot down her request at trademarking the name.
Her latest plan allegedly involves her ex, and Kylie Jenner's on-again-off-again boyfriend, Tyga.
According to Radar Online, she wants her old flame back in an attempt to kill two birds with one stone.
"Chyna wants Tyga back for more than one reason," a source said. "She's never really gotten over him and she gets 'two-for-one revenge hits' — on Kylie and Rob."
These reports come at an opportune time as Kylie and Tyga are reportedly on another break, leaving the door open for Chyna to make her move. The insider went on to add that Chyna has been using King, her son with the rapper, to get her plan in motion.
"Blac's using King Cairo to get more time with Tyga and she's working her magic on him," the source continued. "She's the only one who understands how to please him and she's already lured Tyga away from Kylie several times."
If the claims weren't clear enough, the insider added that Chyna "has every intention of seducing Tyga and stealing him back."
Get the latest drama involving the exes with BET Breaks, above.