Statue of Christopher Columbus Removed By Chicago Mayor Lori Lightfoot
The statue was taken down because demonstrations over it had turned into dangerous confrontations, the mayor said.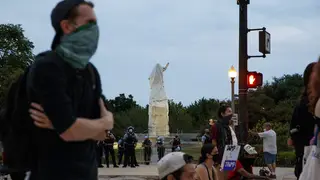 Just hours after an order from Chicago mayor Lori Lightfoot ordered its removal, the controversial statue of Christopher Columbus in the city's Grant Park was taken down overnight.
The Chicago Sun-Times reports cranes approached the statue at 2 a.m. Friday amid demonstrations in which supporters and protesters of the move bickered with one another. 
Lightfoot reportedly made the decision to remove the statue after conflicts between demonstrators became violent last week as people attempted to take the statue down themselves.
Another statue of Columbus was also removed from a park near the city's West Side. In a statement, Lightfoot said the statues were taken down because demonstrations "became unsafe for both protesters and police, as well as efforts by individuals to independently pull the Grant Park statue down in an extremely dangerous manner." She said they were removed until further notice.
A formal process, she said, would soon be announced to assess all of the monuments, memorials and statues across Chicago.
"This statue coming down is because of the effort of Black and Indigenous activists who know the true history of Columbus and what he represents," Stefan Cuevas-Caizaguano, a Chicagoan who watched the removal told the Sun-Times.