New Travel Show Finds Chef Alisa Reynolds Exploring the World 'Searching for Soul Food'
The food travel show introduces audiences to the taste of 'the soul of the rest of the world.'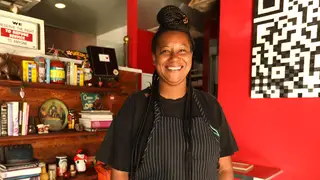 Soul food is usually considered the flavors of African American cuisine, but Chef Alisa Reynolds is interested in exploring the soul and tastes of other cultures.
The chef is the owner of My 2 Cents in Los Angeles and in her new Hulu series that debuts on June 2, she will travel to Peru, Jamaica, South Africa, Italy, and more.
The series was made by Onyx Collective, a content brand making projects with creators of color.
"At my restaurant in LA, I apply my classical training to what I know — soul food — cuisine created with ingenuity through struggle that nourished my people through its hardest times," Chef Reynolds told People. "And I think, just maybe, we aren't the only ones with that bomb ass formula."
When defining soul food outside of a Black concept, the chef said "it's about making something out of nothing with sustenance and love in every bite, and I want to get a taste of it all."
Searching for Soul Food premieres June 2 on Hulu.
In the trailer, Reynolds describes their intent to, "let people know the depth within these meals," she says, later adding, "This is history on a plate."