Don Cheadle Tackles Racism in House of Lies
Don Cheadle tackles racism in Showtime TV series House of Lies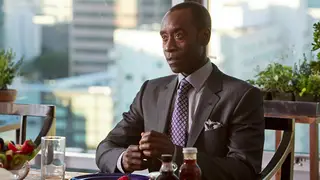 In the Showtime series House of Lies, Don Cheadle plays a ruthless management consultant who schmoozes his way into companies while dealing with his ex-wife and a cross-dressing young son. He also faces racism in the business world, personified by the bigoted CEO of a motel chain in the February 5 episode.
"I think the best way to deal with things that have so much gravitas is to come at it sideways, to find an elliptical, comedic way in," Cheadle believes. "It's more dangerous because the subject matter is so fraught with perils and traps, but if you do it in a clever way, I think you can actually make even more headway than if you were to try to confront it head‑on and polarize people who just want to close their ears to being preached to."
Glynn Turman, who co-stars as Cheadle's character Marty Kaan's father, commends the producers and network "for taking on the elephant in the room. This show addresses the racial situation like no other show. It's not subtle. It's smack dab in your face." Cheadle adds, "We want to deal with reality. I don't believe in colorblind or race-neutral casting. Our races and our differences in sexual proclivity enrich characters and make them more interesting. I don't want to neuter that or cut that off. I think it's important to bring that stuff in. Let's play with the fact that we're not all the same."
Cheadle, who has been concentrating on films but has a history of television work dating back to early appearances on Fame, Hill Street Blues, Night Court and Picket Fences, welcomed the opportunity "to stretch a little bit and spread my wings" in the dark comedy series. "I come from a long line of jokers. Comedy was just part of our lives. We listened to Richard Pryor when I was a kid," he remembers, noting that he tried stand-up briefly. "It's been in my DNA for a while. I just haven't had a lot of opportunities to express it."
This being pay cable, Cheadle also frequently disrobes on camera. "It's very unnatural and uncomfortable, but you just grin and bear it," he says, crediting director Steven Hopkins with making sure "it wasn't some lewd, lascivious thing." Fortunately, staying in body-revealing shape isn't an issue. "I never go too hard on the junk food," he says. "I just try to stay two or three weeks away from being combat-ready." He'll next be seen on the big screen as Denzel Washington's lawyer in Flight and will film Iron Man 3 this spring,
House of Lies airs Sundays on Showtime.
BET.com is your #1 source for Black celebrity news, photos, exclusive videos and all the latest in the world of hip hop and R&B music.
(Photo: Courtesy Showtime)