Joe Budden Declares Megan Thee Stallion Is 'Not a Superstar'
The Houston hottie's fans addressed the podcaster almost immediately.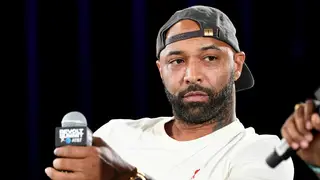 Rapper Yo Gotti once said, "Women lie, men lie, numbers don't lie," and fellow emcee turned cultural commentator Joe Budden appears to be a firm believer in that philosophy after the podcaster made bold claims on his platform stating that Grammy-nominated artist Megan Thee Stallion isn't technically a " superstar," citing record sales.
During the same episode that subsequently garnered Joe praise after he essentially gave rapper Cardi B her flowers, he slammed the Bronx native's "WAP" collaborator.
"You're not a superstar if you can't sell an album," the Joe Budden Podcast host stated. "What the f**k are we talking about right now? What stops her from being a superstar if we're taking out sales? She ain't sold s**t. Got every brand deal in the world, but also has all the backing from different people. She's got a lot going on. That's the game today."
Related: Joe Budden Slams Kendrick Lamar And Eminem's Track "Love Game"
While the Houston hottie has yet to reply to Joe's harsh critiques, social media users seemingly took no issue picking up the task and almost immediately blasted Joe online, including one Twitter user who wrote, "Says the guy who doesn't have a single platinum album. I don't f**k with @theestallion but her first studio album has already sold more than his studio albums."
"Joe Budden been trying to humble Megan Thee Stallion since he interviewed her in 2019," pointed out writer Rare Sanni. "He's jealous."
It's still unclear what part of Megan's resume, including her Platinum-certified debut, Good News, and two Billboard Hot 100 No. 1 hits, triggered Joe's rant.