American Money: Are Auto Lenders Gouging Minorities?
Are auto lenders gouging minorities? Avoid discriminatory price hikes on car loans with these tips.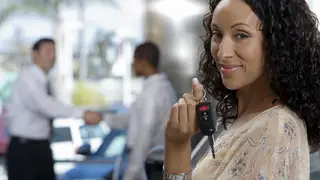 Auto dealers are accused of charging higher interest rates and loan prices for minority borrowers, and the bureau is investigating whether these terms and prices are being properly disclosed by lenders.
Discriminatory lending is nothing new: there's been evidence of widespread mortgage discrimination in inner-city neighborhoods since the 1930s, and systemic denial of loans in the past played a significant role in further entrenching racial economic disparities in the U.S that persist to this day.
Although agencies such as the Consumer Financial Protection Bureau are working to counteract these systemic problems by creating fair lending guidelines, consumers can also take steps to help ensure they're getting a reasonable deal on their auto loan.
You don't have to go with the dealer's lender — some unscrupulous car salesmen may mislead you into thinking this is a requirement for financing the car. Before you even head to the dealer, do your own research to seek out the best auto rate deals, including looking into rates at local banks and credit unions. If you're armed with more information, you're in a better position to know whether the deal is fair or whether you're getting scammed.
Second, always assume that the rate is flexible. As car dealers negotiate between you and the third-party lender, in the process they often mark up the interest rate of your auto loan, pocketing the difference. The bureau's research shows that minorities are particularly vulnerable to these markups, resulting in higher interest rates than those of white buyers with similar credit histories. Even talking the rate down one percent may result in hundreds of dollars of savings.
Avoid buying extras just because they're offered. Odds are that you can buy all the add-ons — including car alarms, fabric protection and gap insurance — for cheaper elsewhere. If you do decide to buy extras, make sure you get a clear understanding of the pricing up front. Some places go out of their way to hide the details in fine print.
Finally, avoid dragging your loan out. Think in terms of total price, not monthly payment. Dealers will try to negotiate with you on how much you pay per month, but this is a tactic to inflate the total cost and lifetime of the loan. Your loan term should ideally be four or five years long — any longer than that and you risk being stuck with repayments as you buy your next car. If you do negotiate, push for a lower price on the car, not a lower monthly payment.
The opinions expressed here do not necessarily reflect those of BET Networks.
BET National News - Keep up to date with breaking news stories from around the nation, including headlines from the hip hop and entertainment world. Click here to subscribe to our newsletter.  
(Photo: Juice Images/Getty Images)