Jamie Foxx Abruptly Ends Live Interview After A Sportscaster Asks Him The Question We All Want To Know
It's clearly a touchy subject for the actor.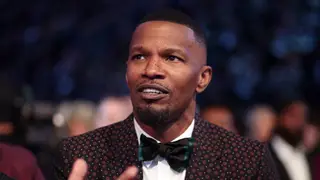 Jamie Foxx is usually all smiles but during a recent interview his public persona kind of went left field.
The actor and musician's been with actress Katie Holmes for about five years now but their relationship is virtually never discussed in public. That's probably the reason ESPN's Michael Smith tried to get some info out of Foxx during a Friday night (February 16) interview.
At first, the discussion was about the celebrity basketball game for NBA All-Star Weekend, but then things changed when a rumor that Foxx and Holmes got engaged was referenced before the question Smith would eventually ask.
"I know you prepared because I saw pictures," he said. "Did you and Katie Holmes play basketball for Valentine's Day? Like some real Love and Basketball?" 
After hearing the questions, Foxx, with assistance, removed his headset and walked away. He didn't make much of a scene, it was just kind of unexpected.
Looks like we aren't getting any scoop on a potential marriage until the couple is ready. See what unfolded below.